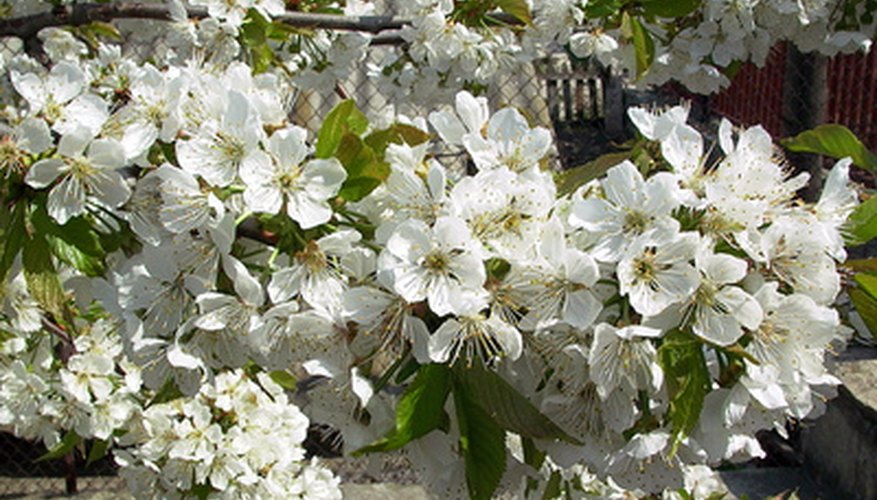 flowering tree image by Anna Baburkina from Fotolia.com
For a few weeks each year, white flowering trees can add dazzling beauty to wild and home landscapes. Many of us anticipate the early bloom of dogwood, magnolia and crabapple trees as harbingers of spring and warmer days ahead. As lovely as they are, however, these trees aren't the only ones that can fill a space with clouds of fragrant blooms. Several varieties of white flowering trees thrive in environments where species that are more familiar would struggle.
Anacacho Orchid Tree
A member of the pea family, Anacacho orchid tree (Bauhinia lunarioides) is a small--up to 12 feet--understory tree native to west central Texas. In early spring, the tree produces abundant clusters of fragrant orchid-like white or pink flowers. Bloom sometimes repeats following heavy summer or autumn rain.
During the rest of the year, its silvery bark and delicate light green leaves make an attractive display. The flowers' nectar draws bees and butterflies. Plant the Anacacho orchid tree in dry, well-drained sand or loam and part shade. Choose an area protected from north winds if your winters are severe. Prune the young trees hard, advises the Lady Bird Johnson Wildflower Center, or they will develop as shrubs.
Mexican Olive Tree
Another white flowering tree at home in the hot dry conditions of Texas, Mexican olive tree (Cordia boissieri) reaches up to 30 feet tall. Its large, dark green leaves make an effective contrast with the papery white blossoms. Flowers occur throughout the year but are most abundant in mid-summer. Their yellow throats attract butterflies. The trees' small reddish-brown fruit feeds birds, deer and cattle. Plant drought-resistant Mexican olive in alkaline to pH-neutral limestone, sand or loam soil. Young trees need regular watering but will survive on rain once established.
Mayhaw
Mayhaw (Crataegus opaca) is a member of the rose family found in the river bottoms and wet woodlands of the southern United States. Like other hawthorns, this 30-foot tree has thorny branches. Its fragrant, dense clusters of white to pink flowers appear in February or March, before the tree leafs out. Reddish-green fruit follows in late spring or early summer. The fruit makes tasty preserves. Because mayhaw likes part shade and wet soil high in organic material, it's a great choice for those poorly-drained shady spots where few other blooming trees will survive.
Cherry Laurel
Cherry laurel (Prunus caroliniana), found in woods and coastal thickets from North Carolina to eastern Texas, reaches up to 36 feet. It has a tidy oval form with narrow, glossy dark green leaves that are toxic if ingested. Cherry laurel blooms between February and April, producing long dense clusters of small creamy white flowers. Egg-shaped black berries appear in winter to provide food for birds.
Even when not in bloom, evergreen cherry laurel makes an excellent ornamental screen. Plant it in moist, loamy well-drained soil and sun to part shade. Extended wet periods may cause its roots to rot.