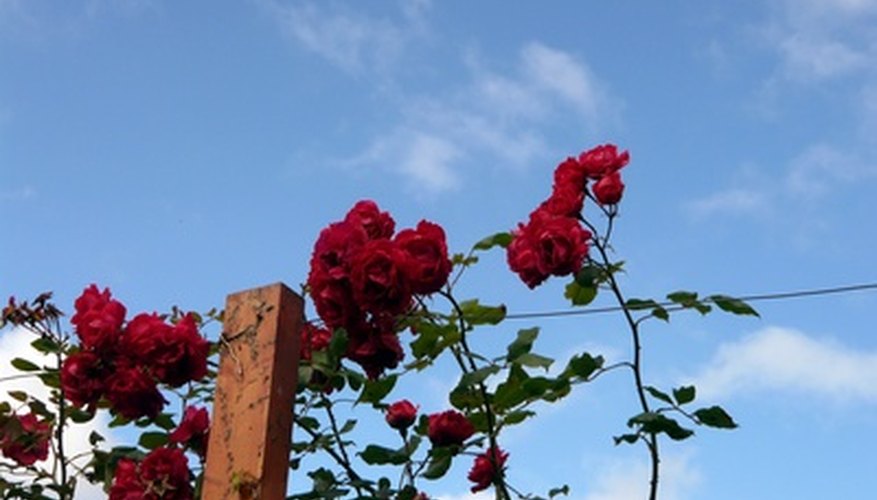 Climbing roses don't climb the way honeysuckle, ivy or clematis does--roses have no way to attach themselves to a wall or trellis. The long canes, up to 20 feet in length, must be secured by fastening to a sturdy support. The biggest rose bush in the world, according to Legends of America, is a climbing white Lady Banks--it covers 8,000 square feet. Your yard might not have quite that much room, but there are a lot of ways to incorporate climbing roses into your landscape.
Entry Tunnel
Set a series of arches over a walkway to the front entry to your home. Grow a climbing rose on each. Alternate the sides the roses are planted on. As the roses mature, train them to not only grow over the arch but from arch to arch to form a tunnel. Use all one color or vary the color. Shade-loving flowers and plants like impatiens, begonias and hostas may be grown under the arch along the walkway. Roses that bloom all season provide color all summer long.
Over a Gazebo
There are few things more stunning than a white lattice gazebo covered in blooming climbing roses. Plant roses in pinks and red to contrast with the white lattice. One idea is to divide the gazebo in quarters and plant red roses opposite each other in two corners and pink roses in the other two.
Trellis
It may be old-fashioned, but it works. Plant the rose in front of a trellis secured to a wall or building. Hide the long leggy canes at the bottom with annual flowers. A country garden look may be achieved by planting a clematis in a contrasting color to grow up the rose. Clematis is a light-weight vine and will twine around the rose without damaging it. An early blooming clematis paired with a later blooming rose means color all summer.
Another idea is to form the trellis into the shape of a heart and keep the rose trimmed to the trellis shape.
Fencing
While climbing roses want to grow up, they can be forced to grow along a fence. Bend the longest canes to be parallel with the fencing. New shoots will form along the bent canes and will grow upward. These shoots become flower buds. Soon the entire fence will be covered with roses.
Frames
Frame a stunning view by installing a trellis on either side of the view and across the top without obstructing it. Plant climbing roses on each side of the trellis, and in front and back as well. When the roses get to the top of the trellis, bend the long canes across the top and fasten securely. The frame covered with roses highlights the view seen through the opening in the trellis.
Resources