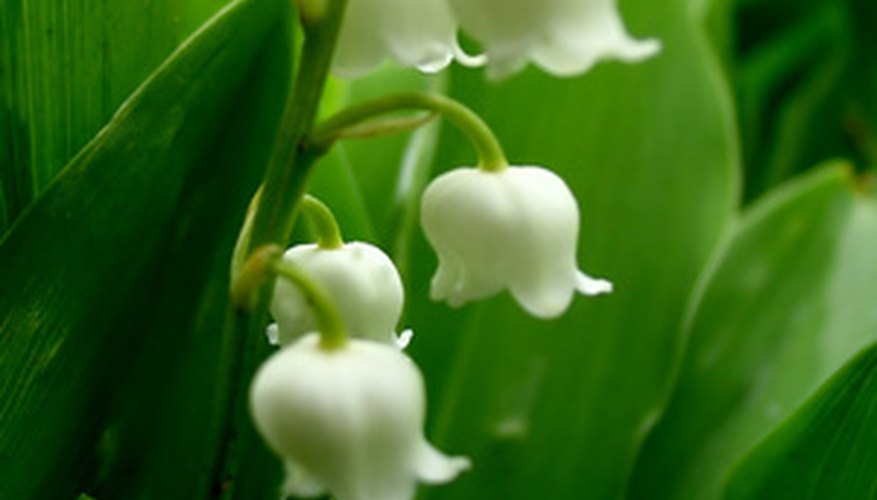 Many mountain areas in Colorado have many deer. Gardeners often must battle the deer over decorative plants that deer find delicious. By selecting plants that deer don't like, you can create a shade garden that won't be devoured by deer. In most cases, plants that are deer resistant are also rabbit resistant.
Lily of the Valley
Lily of the valley is a shade tolerant, deer resistant plant that grows well in Colorado. This early blooming plant features glossy, dark green leaves. The flowers of this plant are fragrant, waxy bells. Lily of the valley requires a moderate amount of water and will need irrigation during drier years. Lily of the valley is cold hardy down to United States Department of Agriculture (USDA) Hardiness Zone 3 and is generally recommended for Zones 3 through 8. Lily of the valley grows to between 6 and 12 inches tall.
Barrenwort
Barrenwort, sometimes called Epimedium, is another Colorado plant that is both deer resistant and grows well in shade. Barrenwort is an airy plant that has elegant, bishop's hat shaped flowers. This early blooming flower requires moderate amounts of water and may need irrigation during drier years. Barrenwort flowers can be purple, pink, or white. Barrenwort is suitable for USDA Hardiness Zones 4, 5, 7 and 8. Barrenwort grows to between 6 and 15 inches tall.
Common Winter Creeper
Common winter creeper is a climbing plant that has deep green scalloped leaves. In some areas, this plant may be evergreen. In colder areas, it may become purple in winter. The leaves of this plant in summer are between 1 and 2 1/2 inches long and are shaped much like an egg. Common winter creeper is very useful for erosion control on shady hillsides. Winter creeper is cold hardy down to USDA Hardiness Zone 5. Winter creeper flowers in the summer and can climb vertical surfaces as tall as 50 to 70 feet. Common winter creeper isn't a plant native to Colorado. However, this ornamental ground cover, introduced from China, grows well in Colorado environments.