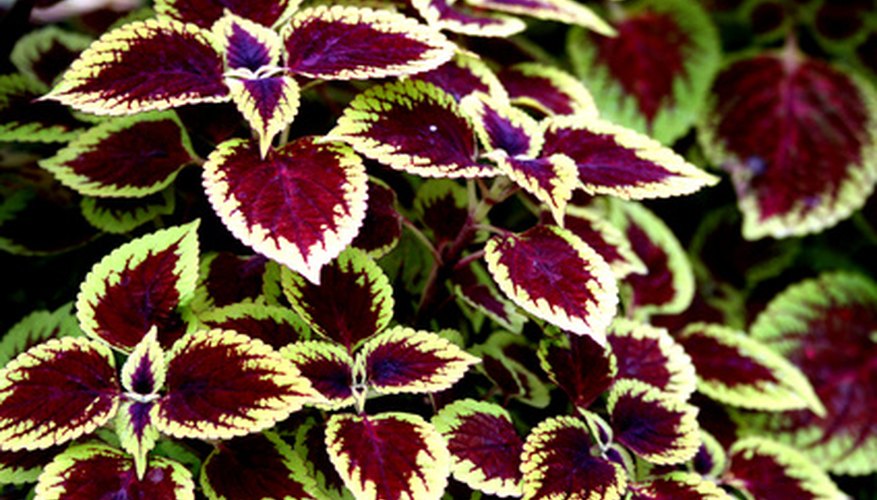 Grow shade plants or shrubs in yard areas where sun levels are not sufficient for sun-loving plants, and enjoy interesting texture and color throughout the landscape. Water shade plants adequately, as areas beneath large trees are often parched due to heavy leaf canopies shielding the ground from rainwater. Periodically apply fertilizer, especially when shade plants and shrubs compete and grow beneath trees and large shrubs.
Impatiens
Grow impatiens (Impatiens wallerana) in partial shade on various well-drained, moist soils. Impatiens require frequent watering during the hottest summer months. Impatiens are not frost hardy and grow in much of the U.S. as annual bedding plants. Impatiens are available in many colors, ranging from white, yellow, red, orange and purple, and some varieties have double flowers.
Coleus
Grow coleus (Solenostemon scutellarioides) for its interesting, colorful foliage. Coleus is an evergreen annual in most regions of the U.S. and a perennial only in warm climates like South Florida. Coleus leaves are simple, opposite, and grow up to 8 inches long with soft texture. The plant is available in many colors and combinations of white, yellow, red, green, purple, and pink. Grow coleus in full sun or partial shade on various soils.
Hosta
Grow hostas in moderate shade. According to an Ohio State University fact sheet, hostas grow best with morning sun and afternoon shade. Grow hostas for their interesting texture and variously colored foliage. Some varieties offer showy spikes of flowers as well. Grow hostas in well-drained, slightly acidic, rich organic soil.
Oakleaf Hydrangea
Oakleaf hydrangeas (Hydrangea quercifolia) are deciduous shrubs that grow up to 8 feet tall with equal spread. Oakleaf hydrangeas have up to 12-inch-long, 5-lobed leaves and showy flowers. Grow oakleaf hydrangeas in partial to fairly deep shade on acidic, fertile, well-drained soils. Oakleaf hydrangeas are cold hardy to zone 5 of the U.S.D.A. plant hardiness map.
Japanese Holly
Japanese hollies (Ilex crenata) are evergreen shrubs with a dense, compact, rounded form, generally growing 5 to 10 feet tall with similar spread. Japanese hollies are cold hardy to zone 6 and grow in full sun to partial shade on nutrient-rich, moisture retentive, yet well-drained soil. Many cultivars of Japanese holly are available, including dwarf forms good for limited space areas.