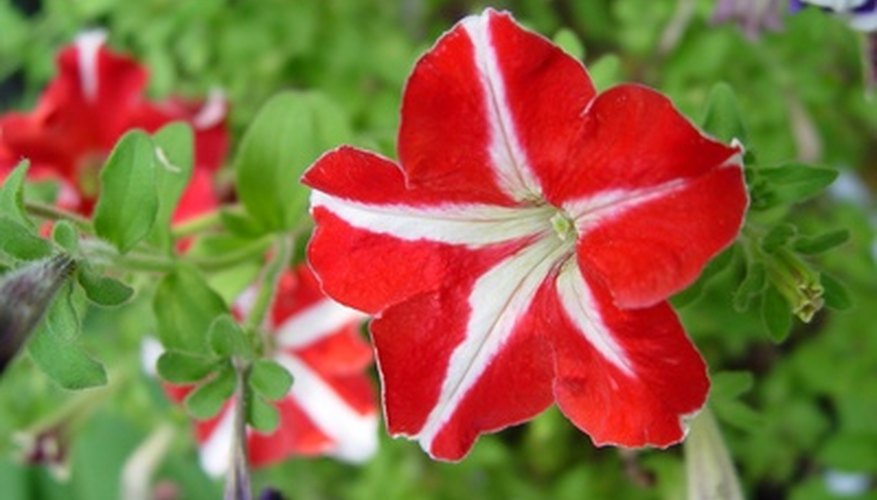 Annuals, which complete their life cycle in one growing season, have their work cut out for them in Maryland, which covers USDA growing zones 5 to 7. This humid mid-Atlantic state sometimes struggles through scorching summers and the occasional drought. Regular watering, especially from late June through August, will keep your annual plants on track. Start most annuals in early to mid-April under fluorescent lights and plant out around May 10, the last frost-free date for central Maryland.
Flowers from Seed
Petunias, marigolds, coleus, impatiens, geraniums and daisies sell exceptionally well at Maryland nurseries, according to the Washington Post's gardening column. Zinnias, marigolds and petunias love the sun, while impatiens prefers shade. Annuals that are outstanding self-sowers include phlox, bachelor's button, larkspur and spurred snapdragon, according to "Month by Month Gardening in the Mid-Atlantic." For fall color, try coleus, pot marigolds, sweet alyssum, yellow sage and wax begonia. For baskets and planters, cascading planters work best in Maryland and other mid-Atlantic states, as well as creeping zinnias.
Bulb Plants
Bulbs suitable for planting in Maryland include gladiolus, tuberous begonias, cannas, caladium and dahlias. Most gardeners treat these as annuals, but they can be dried off in October and stored indoors for an attempt at a second season, according to Maryland master gardener tips.
Cut Flowers
The best annuals to create a succession of cut flowers include ageratum, snapdragon, calendula, China aster, cornflower, cosmos, larkspur, strawflower, tall marigold, nasturtium, pansies and zinnias, recommends the Maryland Cooperative Extension in "Maintaining a Succession of Cut Flowers." Also try phlox, cockscomb, globe amaranth, heliotrope and sunflowers, states "Month by Month Gardening in the Mid-Atlantic."
Vines
Annual vines such as the cardinal climber, hyacinth bean and morning glory can be planted to cover fences, gazebos and trellises.
Vegetables
The tomato leads the way as the Free State's most commonly grown home vegetable, while sweet corn takes first place for commercial growing. Eggplant and peppers also do well in Maryland. The Maryland Cooperative Extension recommends numerous tomato cultivars, including Early Girl and Better Boy, and peppers including Jupiter and Emerald Giant. The state's humid summers seem to encourage vine crops as well, including pumpkins, gourds, cucumbers and melons, found at roadside stands in Western and Central Maryland and the Eastern Shore particularly in August.