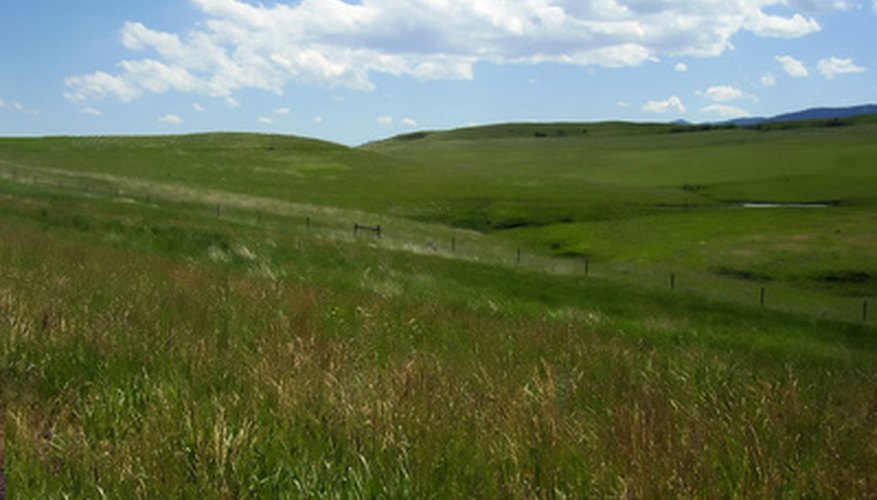 Wyoming's capital city of Cheyenne, says Director Shane Smith of the city's Botanic Gardens, experiences cool, dry summers, late spring and early autumn frosts, a 13 mph average daily wind speed and more hail than anywhere else in the United States. Flowering plants that thrive in Cheyenne's testing High Plains environment include a range of annuals, perennials and even roses.
Perennials
Common yarrow (Achillea millefolium) is an attractive 3-foot perennial with fern-like gray-green leaves that are fragrant when crushed. Yarrow's stems bear large flat clusters of 20 to 25 small, fragrant creamy white flowers. In Cheyenne, yarrow usually blooms between mid-July and mid-September. The flowers are attractive additions to both fresh and dried floral arrangements. Plant yarrow in sun to part shade and dry soil. Its high drought tolerance makes it ideal for Cheyenne, with an average precipitation of less than 14 inches and average humidity of less than 30 percent.
Colorado blue columbine (Aquilegia caerulea) is another second perennial that thrives on the High Plains. Although it's Colorado's state flower, its delightful blue-and-white spurred blossoms blanket the grasslands around Cheyenne between June and August. Its nectar is a magnet for hummingbirds. Standing up to 2 feet high, Colorado blue columbine has delicate pale green foliage. It prefers partial shade and rocky soil. While plants seldom survive more than five years, they are vigorous self-sowers and replace themselves easily.
Annuals
Rocky Mountain bee plant (Cleome serrulata), as its name suggests, will bring nectar collecting bees flocking to your Cheyenne garden. Reaching up to 5 feet high, this eye-catching annual produces spikes of red-violet or pink flowers that continue to grow from July to September. The spikes may seed and bloom at the same time. Rocky Mountain bee plant likes sun or part shade and dry, well-drained sandy soil.
Plains coreopsis (Coreopsis tinctoria), a member of the aster family, is sometimes called golden tickseed. This tough little plant, standing between 1 and 2 feet high, has long stems topped with colorful yellow-and-maroon daisy-like blooms. It grows wild in on the open plains and along the roadsides around Cheyenne, flowering between April and June. Plant plains coreopsis in sun or part shade and moist, sandy well-drained soil. Bees and butterflies visit coreopsis to collect nectar, while many bird species feed on its seeds.
Roses
The Cheyenne Botanic Garden Roses recommends some specific rose varieties for the local growing conditions. Theresa Bugnet, reaching 5 to 6 feet high and an equal width, has greenish-blue foliage and fragrant pink blooms on arching branches between June and September.
Somewhat taller--up to 7 feet--Belle Poitevine has unusual June to September blooms of lilac pink against dark green foliage. Like Theresa Bugnet's, its arching branches can be 6 feet wide.
Champlain, the recommended red rose for Cheyenne gardens, is smaller--3 to 4 feet high and up to 3 feet wide. Its deep red, velvet-textured petals and red stamens contrast effectively with its glossy medium green leaves. Champlain also blooms from June to September.