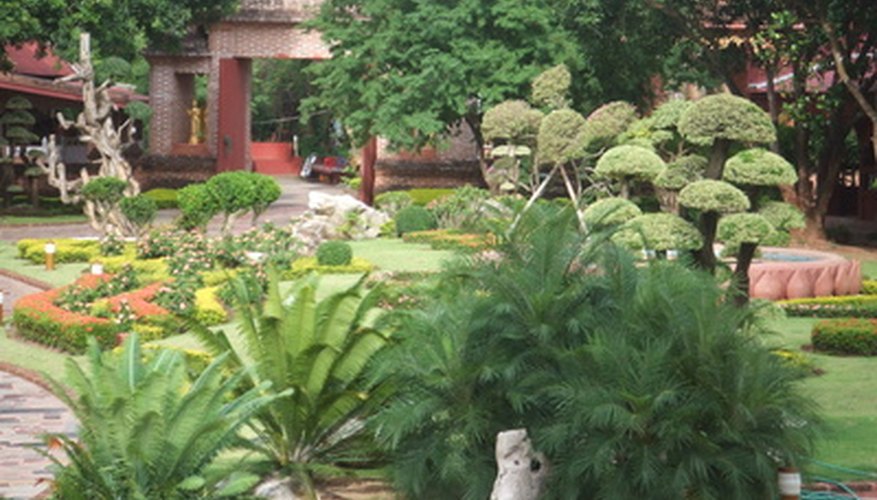 A sensory garden appeals to all five senses. These specialized gardens can be designed for children, for hospitals and for therapy purposes. These gardens can especially appeal to those who don't possess all five senses. Users are encouraged to interact with the plants, feeling the touch plants and nibbling on a leaf in the taste portion. Sensory gardens can be public or private, providing an additional layer of enjoyment to many outdoor spaces.
Sight
Color may be the attribute that comes to mind for the sight portion of this garden, but it is only one part of the whole. Shapes and visual texture are just as important. Begin with large chunks of color, such as with a mass planting of bright purple petunias. Add lighter looking flowers like Queen Anne's Lace. Add fuchsia or ivy in hanging planters to show movement in the breeze. Pampas grass is tall and slender, and would make a nice contrast near squat pepper or pumpkin plants.
Sound
Sound comes into play most prominently in the autumn with plants dry out, but some plants make sound all through the year. Tall grasses and bamboo varieties knock against each other in the wind. Love in the Mist has a seed head that will make a rattling noise. Honeysuckle or lilac can be planted to attract bees, which make another type of sound. Plant sunflowers to attract birds and their songs to your sound garden.
Smell
Flowers are the most natural first selection for a scent garden, but certainly not the only choice. Peppermint and spearmint leave a clean odor in the vicinity. Oregano gives off a distinctive smell, as does lemon balm. Agrimony smells like apricots, while thyme has a strong scent of its own.
Touch
Touch gardens are all about texture. Roses are a good base, with their glossy leaves, sharp thorns, long stems and soft blossoms. Lambs ears have very silky feeling leaves. Thistles have a spiky head. Plant a patch of underground things to feel, like smooth onion leaves next to lacy carrot.
Taste
Take care when planting a taste garden, as not all parts of all plants are edible or even safe. Post signs to direct what part of a plant to taste, if needed. Plant sunflowers for seeds, raspberries and blackberries for sweet berries and sweet corn stalks for tastes of corn. Garden visitors can grab a bit of peppermint, sage, oregano or fennel leaf for more savory sensations.