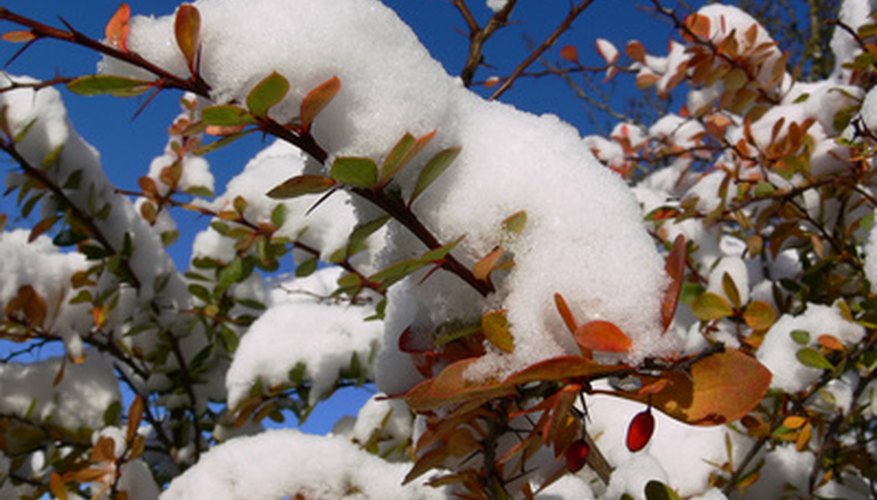 Barberry bushes (or shrubs) add color to your landscape throughout the year, and full-grown barberries require little maintenance. Barberry shrubs come in both evergreen and deciduous varieties and a number of colors, such as purple, red, gold, pink, orange and green. Named for the "barbs" or thorns found on the plants, barberry shrubs can provide barriers around your yard, plus most produce colorful blossoms and berries that birds can feast on. Inquire at your local garden center or nursery about the best varieties of barberry shrubs to grow in your yard.
Select a planting site that provides good drainage and full sun, unless otherwise advised. Some varieties of barberry shrubs can tolerate partial shade.
Space the barberry shrubs 4 to 5 feet apart, if planting to form a hedge or barrier. Use a hoe to mix compost and/or organic matter into the planting area to enrich the soil, if desired.
Dig a hole slightly bigger than the size of the container holding the barberry shrub.
Add 2 inches of water to the hole and allow it to drain. Remove the barberry shrub from its container. Loosen up the root system carefully and cut off any damaged roots.
Place the barberry shrub in the hole, spreading out the roots. Set it at the same height as it was in the container. Add or remove soil from under the plant if needed to adjust height.
Fill the area around the barberry shrub with the removed soil. Gently pat the soil down and water thoroughly to remove any air pockets.
Add more soil around the barberry's base if needed after watering and soil settling. Create a watering well by making a 3-inch high "wall" of mulch around each plant.
Fill the well with water every four days for one month, unless rainfall provides enough. Slowly begin to water the barberry shrubs less often after that, except for during extreme drought conditions.