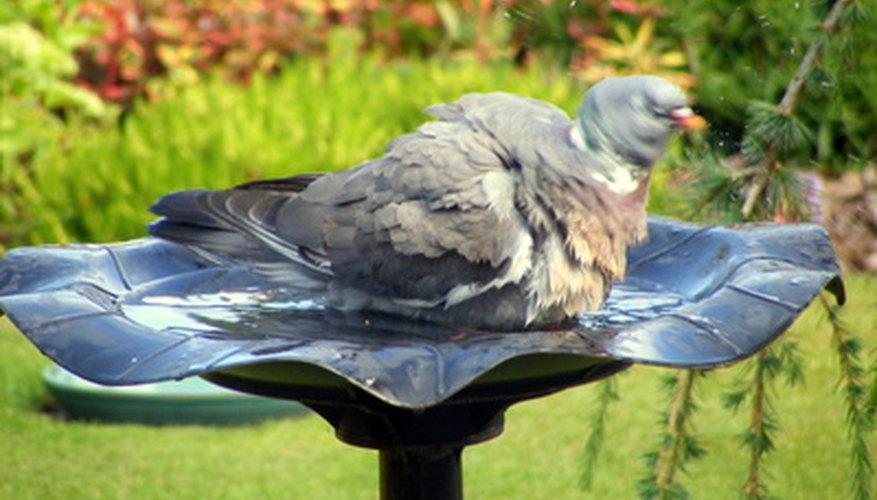 Attract hummingbirds, butterflies and songbirds to your garden by planting their favorite flowers around the bird bath. Flower-lined bird baths provide a cool respite during hot summer days and a bright burst of color to the garden. When surrounded by nectar-rich flowers, winged wildlife will flock to your garden in droves and create a symphony of sounds.
Zinnia
Zinnias (Zinnia elegans) are fast-growing annuals with upright, tall stems that grow up to 30 inches tall. The erect stems hold 2-inch-wide flower heads that comes in a wide range of colors including, yellow, orange, red, white, pink and magenta that create a striking presence in the landscape. The semi-double, double or single varieties of pollen-coated flowers attract birds, hummingbirds and butterflies to drink at the fountain. Deer- and drought-tolerant, zinnias are hardy blooms that emerge in early summer to last into the beginning of fall. They require full sun and well-drained soil. To ensure a continuous flowering season, deadhead or remove spent blooms.
Tennessee Coneflower
Tennessee coneflower (Echinacea tennesseensis 'Rocky Top') is a perennial flower with a moderate growth rate and compact form. Growing 1 to 3 feet tall and wide, Tennessee coneflowers have black cone that hold the curled petals. The showy flowers attract birds and butterflies when planted around the garden bird bath. Beginning in summer, the pink flowers emerge in abundance to light up the landscape through fall, and attract your favorite winged friends. To promote a long-lasting blooming season, remove or deadhead the spent blooms as soon as they are visible. Tennessee coneflowers require full sun to partial shade, and moist soil. Tennessee coneflowers are adaptable and tolerate poor to fertile soil. They do well in USDA zones 3 to 9.
Cardinal Flower
The cardinal flower (Lobelia cardinalis) is a bright perennial flower that grows in clumps and has cardinal red blooms, hence the name. In summer, the spikes of bright red blooms emerge to attract hummingbirds to the bird bath. The lance-shaped, glossy leaves of the cardinal flower are bright green and tinged with bronze. Cardinal flowers prefer moist soil, perfect for flanking a bird bath where they will catch the overspray of the water. Cardinal flowers grow 36 to 48 inches tall and prefer full sun to part shade and nutrient-rich soil. Plant in USDA zones 3 to 9.