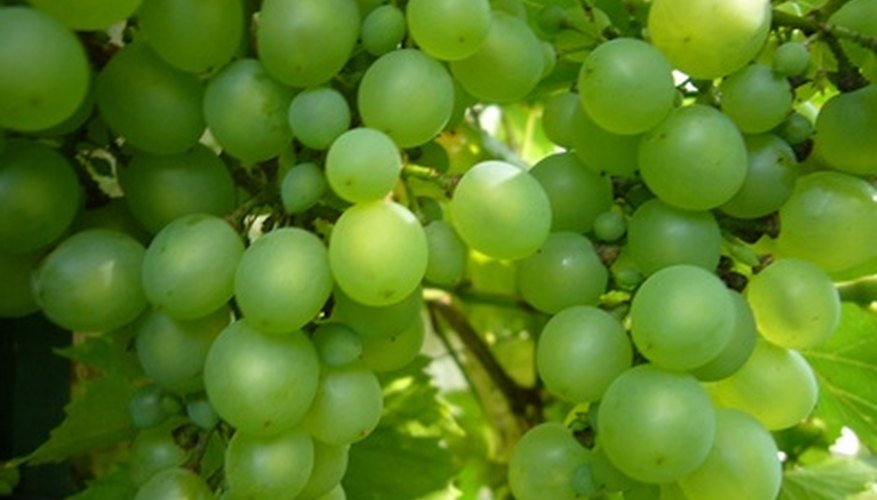 A grape trellis supports heavy, weighty grapevines by raising them off the ground so they produce healthy succulent fruit for domestic or commercial purposes. A properly constructed trellis also makes it easy to harvest fruit when it is ready, thus reducing the time and effort involved in the otherwise lengthy process. Making your own trellis saves money and allows you to personalize it to your requirements. Provide each grapevine an 8-by-8 foot space so it has ample space to grow and spread.
Measure 3 feet from one end of each 9-foot-long, pretreated lumber pole and mark it with masking tape or a marker all the way around. Make the line as straight as possible.
Use a post-hole digger to dig a hole that's 3 feet deep and 8 inches wide over the prepared site. Level the base of the hole by hammering a piece of lumber so it is even. Measure a distance of 10 feet from this hole and make another hole with the same dimensions. Make sure both the holes are in a straight line.
Add water to concrete in a wheelbarrow, following manufacturers directions. Mix well with a stick until it has a thick, ice-cream-like consistency.
Stand a length of lumber into one of the holes vertically, ensuring that the marked line is level with the surrounding soil. Pour concrete into the hole until it is 2/3 full and allow it to dry completely. Repeat the procedure with the other hole.
Add soil over the dried concrete. Make sure the soil is in line with the surrounding soil level. Tamp it down to remove any air bubbles.
Position a 12 foot long, 2-by-4 plank across the tops of both vertical posts, allowing for 1 foot to overhang from each corner. Position it so it is 6 inches below the top of the vertical posts. Drill or hammer it in place with galvanized wood screws. Continue drilling or hammering posts across both vertical posts, spacing them 1 foot apart.
Hammer an 8 foot long piece of lumber to the top of one of the vertical posts, extending it diagonally so its other end reaches the base of the second vertical post. Hammer the second 8 foot long piece of lumber to the top of the second post and extend its other end to the base of the first post so they form an X-shape.