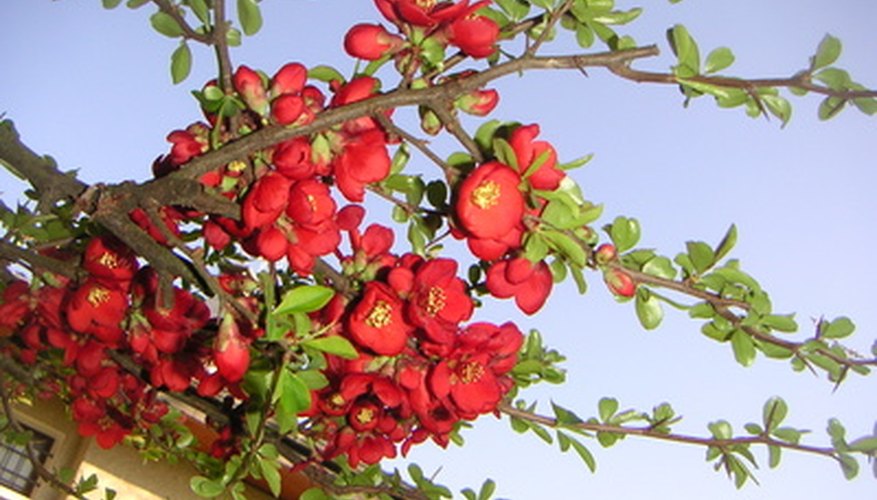 crabapple tree image by A74.FR Ben Fontaine from Fotolia.com
Ornamental flowering trees can be a breathtaking addition to any garden or landscape. Unfortunately, many of these beautiful trees are highly susceptible to diseases, have fragile, shallow roots, or soft wood. For these reasons, it is best to choose a hardy ornamental flowering tree. Hardy trees are those species that are known to be able to tolerate poor growing conditions, poor care, and continue to live and thrive even when affected by insects or diseases.
Crabapples (Malus species)
Crabapple trees are desirable for their hardiness, ease of care, brilliant spring blooms and tasty fruit. The newer the cultivar, the more likely it is to be disease-resistant, according to horticulturists with the University of Minnesota, so choose a variety that is recent. The flowers range from a dark burgundy color to creamy white. The small fruit (averaging 2 inches across) is similar to apple and is edible. These medium-sized trees are slow-growing, making them the perfect centerpiece for that full-sun area of your garden, and will reach a maximum height of around 25 feet. Crabapples are hardy in United States Department of Agriculture growing zones 4 through 8a.
Buckeye "Autumn Splendor" ( Buckeye aesculus)
"Autumn Splendor" is a cultivar of buckeye that is highly ornamental. The tree blooms in the spring with large, yellow flowers. In the summer, this buckeye shows off with dark, glossy green leaves. In the fall, those leaves turn deep maroon and the tree produces shiny nuts similar to horse chestnuts. "Autumn Splendor" can grow up to 35 feet tall and is especially good at resisting fungal diseases that lead to leaf spots. It is hardy to USDA zone 3b.
Wild Plum "Princess Kay" (Prunus nigra)
"Princess Kay" is a Canadian wild plum and is a terrific tree for colder, northern parts of the United States. It is grows well in USDA hardiness zones 2 through 6. This showy tree features double-petaled, pink, fragrant flowers that bloom in the spring for a little over a week. "Princess Kay" is a small tree, not growing more than 15 feet tall, and requires well-drained soil to grow well. The tree is a true ornamental in the sense that it does not produce any fruit.
Redbuds "Minnesota Strain" or "Eastern" Redbud
Redbuds are known for their hardy spring flowers, which appear even before the heart-shaped leaves uncurl. These small, hardy trees grow to between 15 and 25 feet. "Minnesota Strain" is a small, pink-flowering, cold-weather tolerant variety. "Eastern" is a redbud variety that has distinctive, heart-shaped leaves and is relatively trouble-free, according to Nancy Rose of Fine Gardening. Most redbud trees grow very well in USDA zones 4 through 9 if planted in full sun.