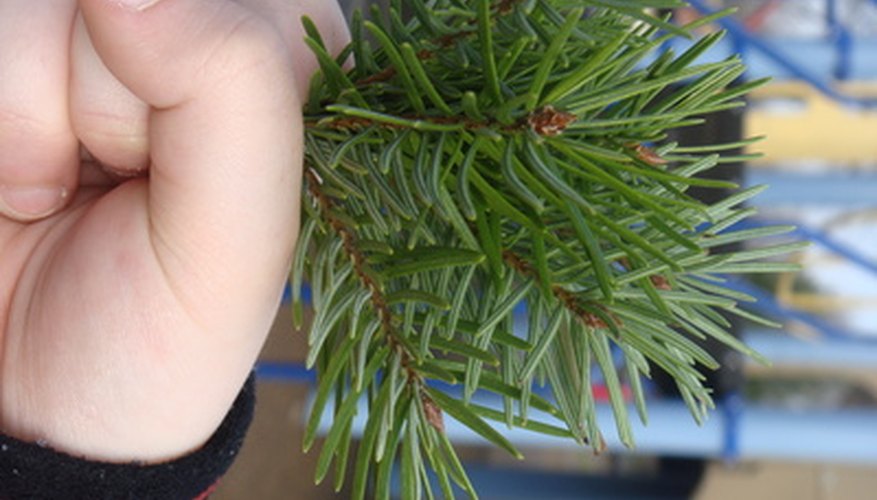 Decorating your home is an important part of the holiday season; decorations bring holiday cheer into your living space. During the holidays, stores are packed with decorations for the home. Usually these decorations are mass-produced (and in most cases, are not eco-friendly). Instead of spending money on mass-produced decorations, decorate your space with evergreens to bring the wintery outdoors inside.
Acquire branches of evergreen trees from your area. Use cuttings from your own trees, pick up fallen branches during a walk through the woods, or ask a Christmas tree vendor if you can have or buy loose branches.
Bend a few evergreen boughs into a ring, and secure with craft wire. Hang this wreath on the door or wall as-is, or decorate it with ornaments affixed with hot glue.
Fill a tall, wide vase with alternating layers of pine cones and miniature ornaments. Add an evergreen stem or two to the vase, or wrap shorter evergreen branches around the base of the vase.
Line a glass or crystal bowl with evergreen branches. Top this layer of evergreen with pine cones or ornaments. Pine cones are more natural and neutral, while ornaments are more festive and match or complement your tree's ornaments.
Drape several boughs of evergreen on the mantle. Make a large bow with wire-lined ribbon. Affix the bow to the center of the mantle evergreen arrangement.
Fill a tall vase with long, dramatic evergreen cuttings. Arrange the cuttings so that they bend away from one another, stretching out in several different directions. Spray the ends with faux snow, to make the arrangement look like it was just brought in from outside.
Create a small wreath with evergreen cuttings and craft wire. Decorate the wreath with a ribbon bow or small pine cones. Place a jarred candle in the center of the wreath. Use a candle with a wintry or holiday fragrance to add to the holiday theme.