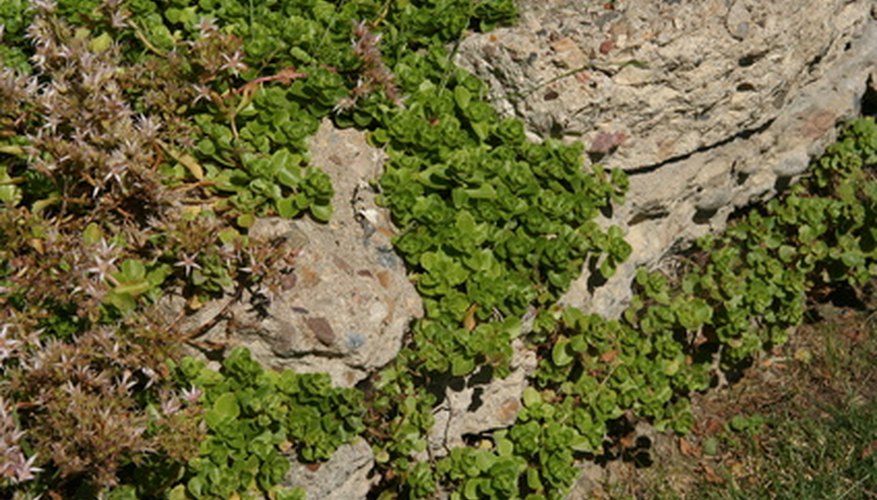 Many gardeners have parts of the lawn or garden where grass just won't grow, or areas that are hard to maintain. Hardy ground cover plants can be the perfect solution for these problem areas. Available in many varieties, flowering or non flowering, the perfect ground cover can be found for almost any soil, climate and odd location. Many are maintenance free once they are established.
Herbaceous Plant Ground Covers
The fragrant leaves and purple flowers make the creeping charlie (Glechoma hederacea) a good, low maintenance ground cover for hard to maintain, moist areas like ditches. Growing only about 4 inches high, it spreads out quickly. Care must be taken that it doesn't take over shady areas of a nearby lawn. Lily-of-the-valley (Convallaria majalis) spreads rapidly and is often used under trees and shrubs. The plant will grow in poor soil and reaches a height of about 4 inches. Mount Atlas daisy (Anacyclus pyrethrum depressus) is a white daisy with a red underside and silvery leaves. Plant the Mount Atlas daisy in an area that is dry, hot and sunny for best growth. Dwarf coreopsis (Coreopsis auriculata) will cover the ground with a mat of foliage and add color with orange and yellow flowers from throughout the summer, from June to September.
Woody Plant Ground Covers
Sweet fern (Comptonia peregrina) will grow in any soil, but prefers slightly acidic, poorer soils. The underground stems of the sweet fern help in spread. Sweet fern tolerates salt, so it is especially a good choice near beaches. For a taller ground cover, try Fragrant Sumac (Rhus aromatica). It grows from 2 to 6 feet high and will tolerate most soil types. Fragrant sumac will thrive with little maintenance on sunny banks and terraces.
Native Plants as Ground Cover
Native plants are a good idea for a low maintenance ground cover. Sometimes called wild flowers and sometimes called weeds, native plants have adapted to survive climate, soil and predators of the local vicinity and offer a low maintenance alternative for areas where other plants will not grow. Check with the local Cooperative Extension Office for a list of local native plants.
Double Duty Ground Cover Ideas
Consider using mints and herbs as a ground cover that will release a fragrance with each breeze. With over 600 varieties of mint available, these fast growing herbs will quickly fill in bare areas of the lawn and garden. Creeping thyme is also a good, aromatic ground cover in highly trafficked areas. The creeping thyme can even be walked on. Edible ground cover, like strawberry plants, also makes an attractive double duty ground cover.