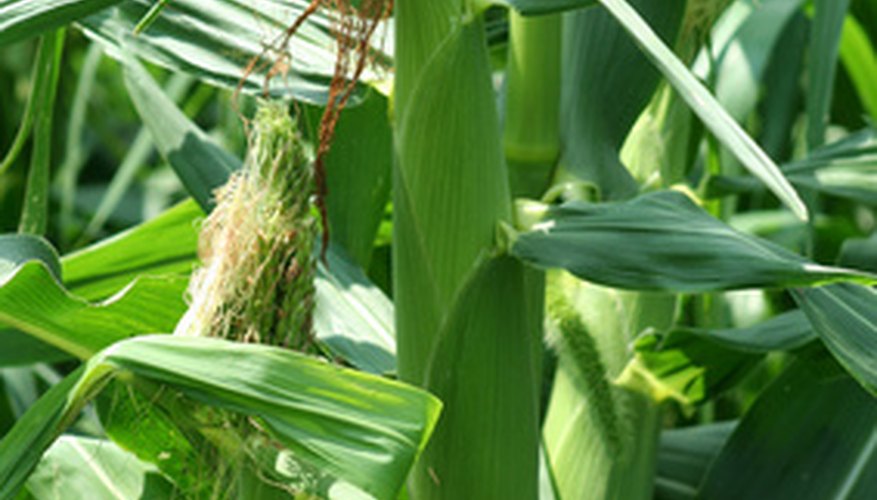 There are numerous genetically enhanced sweet corns on the market that will grow well in Illinois. The normal, open-pollinated sweet corn is marked SU on the package. For the home gardener, the gourmet sugary enhancer SE sweet corns are the hybrids of choice. Super Sweet Sh2 varieties have a tougher skin and are not as flavorful or creamy but they can be mechanically picked, and they store and ship well.
Recommended Varieties
Among the many available SE varieties, the University of Illinois recommends Earlivee, Golden Cross Bantam, Iochief, Jubilee, Seneca Horizon and Sundance. Jubilee is good for canning; Earlivee is extra early; NK-199 yields large, attractive yields; Sundance is a good early season variety. Recommended SU corns include Ashworth for early yields and Golden Bantam that produces sweet tender corn with a rich flavor.
Soil
You'll grow the best sweet corn if your soil has a pH of 6 to 6.5. Use a spade, rototiller or plow to break up the soil at least 6 inches deep. If your soil has not been tested, apply 3 to 4 pounds of 12-12-12 fertilizer per 100 square feet.
Planting Depth and Spacing
Plant freshly purchased seeds. Planting seeds from a previous hybrid crops will produce inferior yields and poorer ears. Plant seeds 1 to 1½ inches deep in warm, dry soil, but only ½ inch deep if the soil is cool and moist. Space them 9 to 12 inches apart. To ensure good pollination, plant two or more rows of each variety side by side. Rows should be 30 to 36 inches apart.
Planting Date
Plant standard sweet corn at soil temperatures above 55 degrees F. Plant super sweet varieties at soil temperatures above 65 degrees F. Plant sweet corn at or just before the usual frost date for your part of Illinois. Your seed package will tell you how many days to harvest for that variety.
Growing Early Corn
Plant an early-maturing variety about ½ inch deep and cover the row with a 3-feet-wide sheet of clear polyethylene. Cover the edges and ends of the rows to keep the soil warm. You can leave the polyethylene over the small plants for two to four weeks. When the weather starts to get hot, remove the film or cut slits in it and pull the plants though the slits.
For Corn Throughout the Summer
If you want a to have sweet corn throughout the summer, stagger your plantings. For your first planting choose two early varieties and a main crop cultivar. When the seedlings of your first planting have three or four leaves, you can plant again. You can keep planting up to the first week of July.
Avoid Cross-Pollination
Protect your corn from cross-pollination by other types of corn. If a super sweet variety is pollinated by standard sweet corn, it will lose its sweetness and become starchy. Cross-pollination of white and yellow sweet corn will affect the appearance of the white corn, but not the taste.