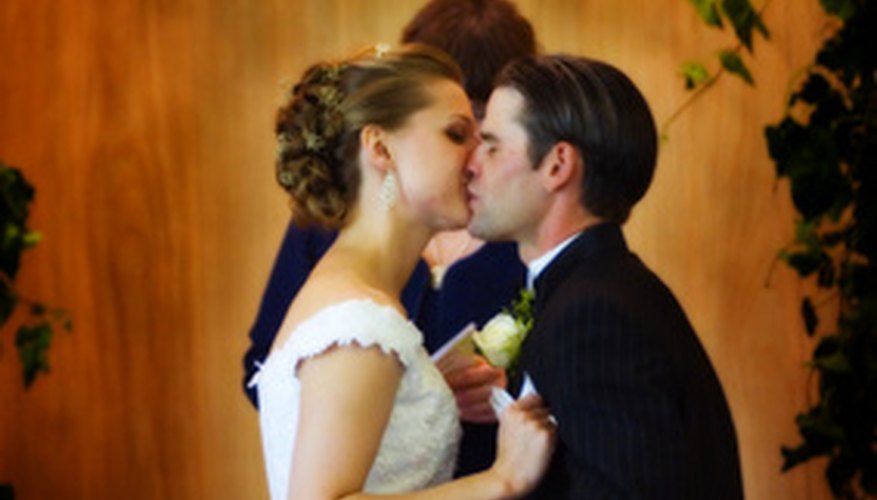 As you gather ideas for wedding decor and accessories, often a wedding arch enters into the picture. The wedding arch stands at the altar and provides a beautiful backdrop as the couple stands to take their vows. Once you decide to use a wedding arch, it is time to figure out how you wish to decorate it. You could decide to use grapevines to create a grapevine garland in an archway to soften the hard lines of the arch and provide a foundation for flowers.
Position the archway where you need it to stand for the ceremony and anchor it according to the style and design of the archway.
Wrap one grapevine garland along the front left half of the archway. Start wrapping the grapevine garland at the center of the archway and wrap it loosely around and around the archway support until you reach the floor or until the grapevine ends.
Cut approximately 10 5-inch-long pieces of floral wire and use these to secure the grapevine garland to the archway. Twist the floral wire around both the archway and the garland to hold the garland securely to the archway, spacing the wires approximately 1 foot apart along the entire garland.
Repeat the process to attach grapevine garland to the front right half, the back left half and the back right half of the archway.
Add the green garlands to the archway in the same fashion and attach them in the same way.
Add the floral garlands to the archway last. Because you are using six floral garlands, add one garland to the left front, left back, right front and right back first. Then after this foundation is in place, add one more floral garland along the center left of the archway and the center right of the archway. Attach these last garlands with slightly longer pieces of floral wire and attach the floral wire to existing garlands where you can easily reach them.
Make a tulle bow for the center of the archway. Cut a 1-yard length of tulle and make a small bow in the center of this piece of tulle. Make the tails of this bow approximately 6 inches long. Use the remaining length of tulle to make a larger bow in the center of the piece of tulle. Place the smaller bow on top of the larger bow and secure them together with small pieces of floral wire.
Attach the tulle bow to the center front of the archway with two 6-inch-long pieces of floral wire, twisting the wires around the tulle and the archway to secure the bows.
Allow the tails from the smaller bow to hang down from the archway in the center. Take the tails from the larger bow and pull one tail to the right along the archway and the other tail to the left along the archway. Intertwine the tulle tails in and out of the garlands to secure them loosely on the archway.