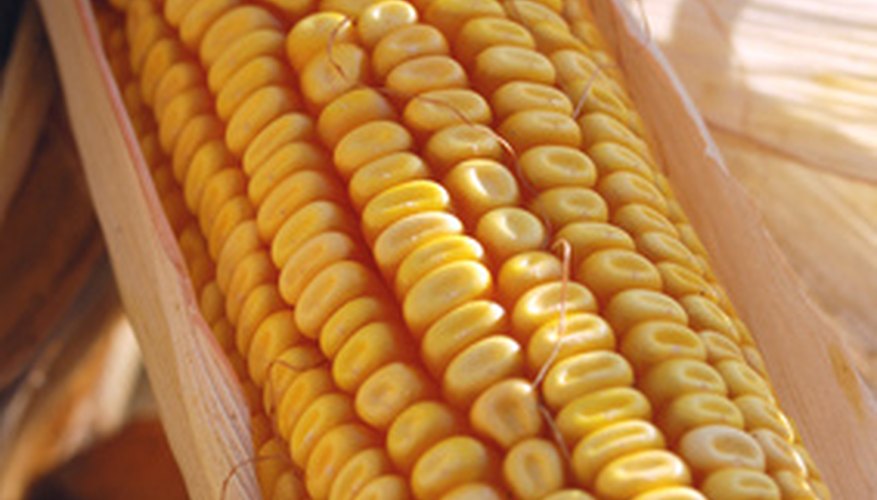 Sweet corn is a favorite treat of late summer. If you grow your own sweet corn and are particularly fond of your crop this year, you can save a few ears to use as sweet corn seed for next year's crop. Harvesting the corn seed is a simple process, but successfully storing the sweet corn seed is the key to the seed's ability to produce a harvest next season.
Allow several ears of sweet corn to remain on the corn stalks, and then gather your sweet corn seed ears two to three weeks after the stalks have turned brown.
Pull the husks back, and tie them with string, then hang the sweet corn in a dry, airy place so it can dry even further. Make sure your hanging area is out of the reach of rodents and other critters.
Allow the sweet corn to hang dry for two to three weeks, until the kernels are crispy and wrinkled. To test the kernels, the Seed Ambassador's Project recommends taking a kernel and smashing it with a hammer. If the corn kernel shatters, it is dry enough to store. If it has any moisture to it, it needs to dry longer.
Take a dried ear of sweet corn in your hand, and hold it over a paper bag. Twist one hand one direction, and the other hand the other direction. This will pull the corn kernels off the ear, and they will drop into the bag.
Separate any debris or dried silk from the sweet corn seed.
Place the corn seed in a sealed, waterproof container, such as a glass jar, and store the jar of sweet corn seed in a cool, dark location. If you have seeds that are already in paper envelopes, allow the envelopes to sit on a dry counter for two days, then place the envelopes in the glass jar.