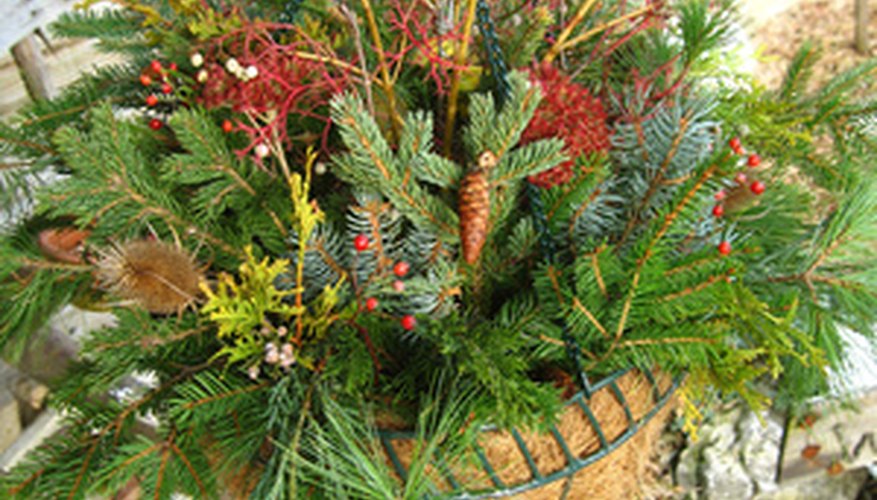 Creating hanging flower baskets allows the home gardener to design a container garden perfectly suited for her own home landscape. Designs can include plants accenting those already in the garden or include choices to match outdoor furniture. Hanging basket design incorporates the use of color, foliage texture, plant height and placement to create a living decorative accent. Hanging flower basket plant combinations are virtually endless, as long as the gardener uses plants with compatible sunlight and growing conditions.
Monoculture Flowers with Foliage Plants
Some of the most stunning hanging basket arrangements consist of one type of flower used as a major focal point in the planter. The addition of a simple companion foliage plant adds just the right amount of flash to draw attention to the basket. Pair trailing plants such as Wave petunias or verbena with green spikes or vinca vine. The spikes extend well above closely planted trailing plants and allow the gardener to choose one of the many available petunia or verbena colors. This simple combination allows the designer to showcase both the stunning flowers and foliage types that add vertical interest above and below the hanging basket.
Combination Foliage Basket
Cramming the same old annuals in a hanging basket might not be working for you this year. Try something different by focusing on foliage plants and include just a touch of color to the display. Choose deeply colored foliage plants such as caladium or coleus. Accent the maroon color in these plants by placing red fountain grass in the center or back of the pot. Toss in a single plant featuring pink or blue flowers to soften the display. Ageratum produces a soft blue, fuzzy flower as well as a soft pink flower--available in certain hybrids of the plant.
Mixed Hanging Baskets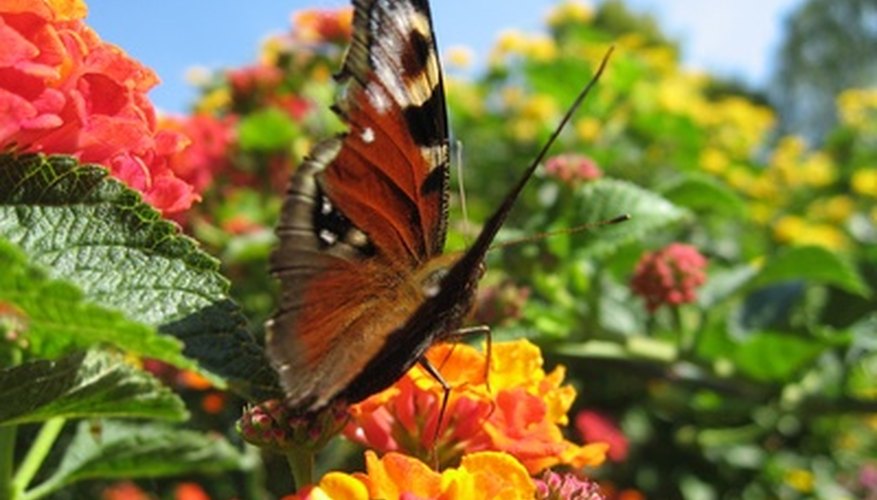 The recipe for creating a beautiful flowering hanging basket doesn't mean you have to choose one or two flowers. Create a vibrant look with a mixture of foliage and flowers to create a beautiful basket that is a garden within a container. One combination to consider includes: bright purple lobelia as a mounding plant; nasturtium's of yellow, red and orange flowers; trailing orange lantana; soften the effect of the bright colors with calming, white-flowered sweet alyssum; and finish the planter with the spiky foliage of asparagus fern. Asparagus fern also fills in gaps in flowers and softens the bright colors in the basket. This full sun basket needs regular watering and fertilizer to support this wide variety of plants.