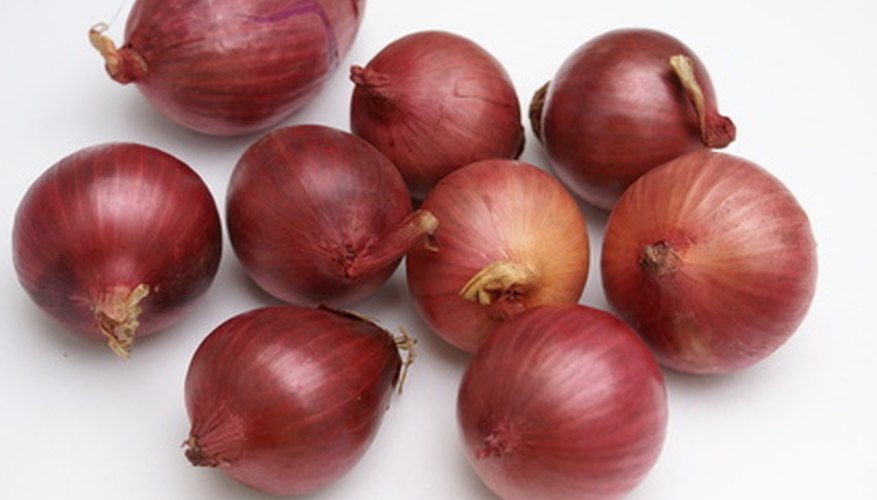 Red onion bulbs. Onion image by L. Shat from Fotolia.com
Get a jump start on your spring gardening by starting the year before. Onion sets consist of partially grown young onions that you plant in your garden in the spring. These mature faster than onions grown from seeds in the spring, and they can be a good option for the impatient gardener. You will need to plan ahead when making your own onion sets by starting them four months before the usual time of the first frost in your region, by which time they will be ready for harvest and storage until your spring planting.
Rake over a prepared garden bed and gently press onion seeds into the soil 1/4 inch apart.
Cover the seeds with 1/4 inch of soil and water well.
Keep the onion seeds well watered until they germinate, then let them grow, watering as needed when the ground gets too dry.
Pull the onions out of the ground after the first good frost. At this point their tops will have died back.
Dry the onions, which should be marble-sized, for two to three weeks in a cool, dry area. Spread them out on newspaper or a similar surface.
Pinch back any tops that have not fallen off to just above the onion bulbs and transfer the dried onion sets to mesh bags for storage in a cool dry area until the spring. Don't pack too many per bag; a pound or less per bag will allow good air circulation.
Things You Will Need
Onion seeds

Prepared garden bed

Mesh bags
References
Resources