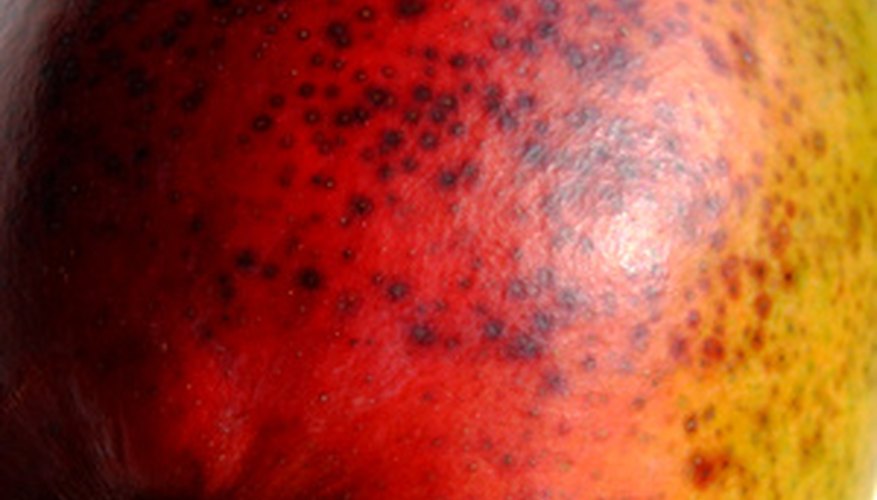 Tropical plants can become diseased whether they live outdoors in Hawaii or indoors in Michigan. Common diseases that afflict tropical plants are fungal diseases such as anthracnose, shot hole fungus and powdery mildew. Some diseases are merely cosmetic and do not harm plants other than affecting their appearance, so some experts in the field, such as the folks at TropicalFlower.org, advise gardeners to do nothing when a disease occurs. If you decide to use a chemical product to treat your plant, use it gently by not mixing it more strongly than label instructions advise.
Keep fungal diseases in check by making sure your tropical plants have good air circulation around them. Whether the affected plant is outdoors or inside your home or office, prune off excess foliage with garden clippers and keep your plant a few feet from other plants.
Control shot hole fungus, also known as Phoma fungus, on kava kava leaves and stems by cutting the foliage back to healthy growth and then spraying the plant and its surrounding area with a solution of organic sulfur and water. Repeat your application after two weeks and monitor new growth for signs of repeated infection, which manifests itself as brown spots on the leaves. Shot hole fungus can affect other plants as well.
Treat anthracnose, which frequently afflicts mango trees and their fruit, by spraying your tree with a sulfur or copper spray once a week. Apply your fungicidal spray once a week from spring through fall. If you begin spraying as soon as you notice lesions that are dark and look as if they were soaked with water on the tree's leaves, stems or fruit, your success at eliminating this disease will be increased.
Kill powdery mildew and other types of mildew on ornamental plants by spraying your plant with an approved fungicide. If you use your fungicide product during cool, wet weather, you will have more success in controlling this plant-killing disease than if you spray in warm, dry weather. Recommended fungicides, according to Ohio State University, include Triadimefon, Triforine and Propiconazole. Ask at your local garden center which product they recommend for your specific plant.