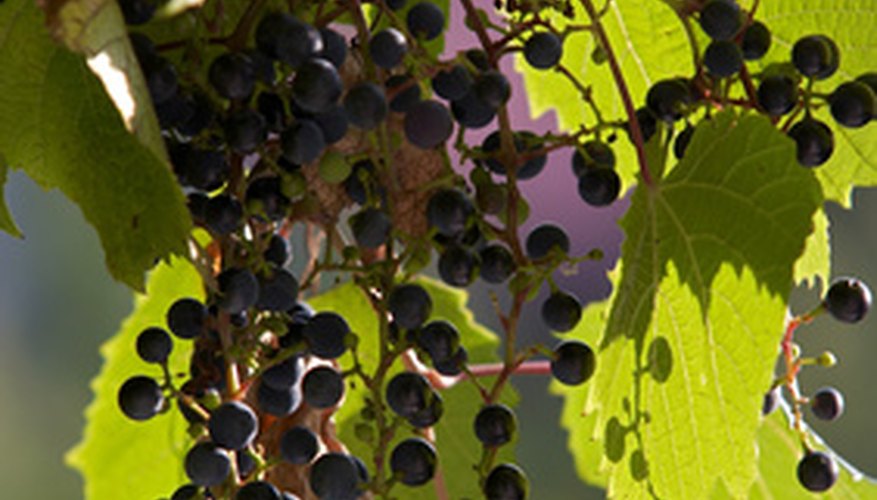 Concord grapes are one of the sweetest, juiciest and most flavorful of all grape varieties. A wild grape similar to the Concord originated in the New England area. Concords were first cultivated in Massachusetts in 1854, after Ephraim Wales Bull experimented with grape varieties, resulting in his development of the Concord in 1849. In the 1860s, Dr. Thomas Bramwell Welch introduced Concord grape juice, resulting in an industry that we enjoy today. If you have a few Concord grape vines, you can make juice, jam, jelly and other culinary products. You can then use these products in numerous dishes.
Make Concord grape juice by harvesting one pound of grapes for every cup of juice you want to make. For example, for one quart of juice, pick four pounds of grapes. For one gallon, pick 16 pounds of grapes.
Wash your grapes in a large colander and then remove their stems. Discard any unripe or shriveled fruit.
Mash your grapes with a potato masher in a large pot or bowl. Do as many grapes as your bowl will hold and then remove them to another large pot and repeat the process with the succeeding batches of grapes. Then place your mashed grapes into a large pot, such as a soup stockpot, and simmer for 10 minutes, stirring occasionally to prevent sticking. After five minutes, mash your grapes again--attempt to break up all grapes.
Strain your grape juice mixture by pouring your cooked grapes through a large sieve you place over the top of a second large pot. Allow the draining grapes to remain in the sieve for several hours in your refrigerator, then remove the sieve and compost the grape slurry. Strain the juice again and then store your juice in smaller containers such as Mason jars. Freeze excess juice you cannot use within one week.
Follow any standard recipe for jam or jelly to make Concord grape preserves. You can later use your jam or jelly in recipes such as stuffed Cornish game hems, grape glazed carrots, Concord grape trifle, Concord Bavarian, sherbet, frappe and other recipes. See Resources for recipes of these dishes as well as others that use your grape juice.