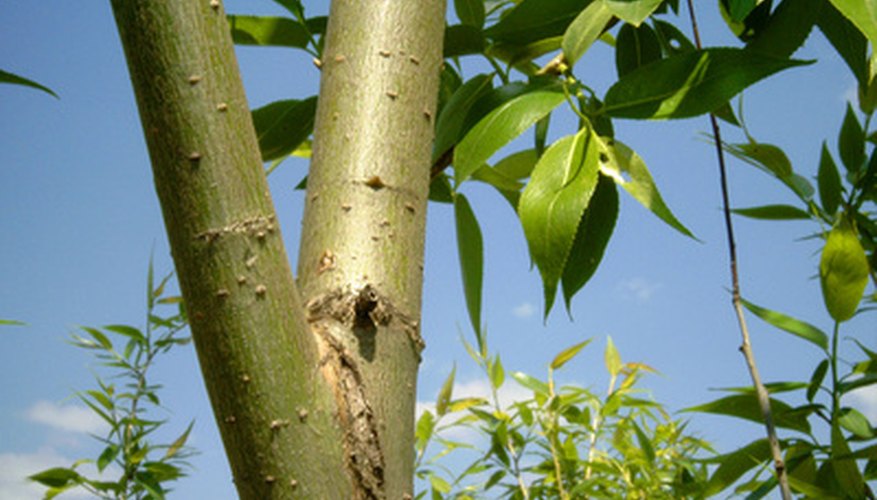 Rustic garden arbors are decorative accessories for a country-style garden or landscape. Create a rustic garden arbor from tree limbs and twigs to complement a natural setting. Look for sturdy fresh willow, alder, bamboo or birch limbs and twigs to make the arbor; green material is more pliable and less likely to disintegrate during construction. Design the arbor to fit over a walkway or as a focal point in your garden.
Cut four sturdy saplings equal to the desired height of the arbor, plus 12 inches. The limbs are the vertical posts for the rustic arbor and should be between 4 and 8 inches in diameter. Remove all of the leaves and any small branches from the four limbs. Cut the limbs at the top with a handsaw to make the heights uniform.
Mark the desired spots for the sapling posts of the arbor on the ground with spray paint. Dig four 12-inch deep holes slightly larger than the diameter of the saplings on each mark. Space the two posts on each side of the arbor between 1 and 2 feet apart. Space the two sides of the arbor between 3 and 4 feet apart.
Insert the bottom end of the four saplings into the holes. Mix the mortar and fill in around sapling posts. Let the mortar solidify.
Cut branches or twigs to fit the space between each set of sapling posts on each side of the arbor. This rustic design will resemble a ladder. Plan to space the twigs between 4 and 6 inches apart from the ground to the top of the arbor.
Drill holes in the sapling posts on the sides of the arbor for each branch or twig. The holes should be facing each other. Some of the holes will need to be larger than others to fit the diameter of the specific branches or twigs.
Insert the twigs inside the holes in the saplings. Tie each twig to the sapling with twine in a figure eight pattern to secure the twig in place.
Cut two tree limbs with a similar thickness to the sapling arbor posts. The limbs are the cross beams that will connect the sides across the top. The limbs should be long enough to span the width between the two sides of the arbor. Remove any leaves and twigs from the limbs.
Drill holes in the top of the saplings to fit the limbs. The holes should face each other directly across the width of the arbor. Place the cross beam limbs into the holes, and then secure them in place with twine.
Cut twigs to fit perpendicular to the top cross beams of the arbor. Remove all of the leaves from the twigs. Drill facing holes to fit the twigs along the length of the cross beams. Place the twigs into the holes before securing them with twine.