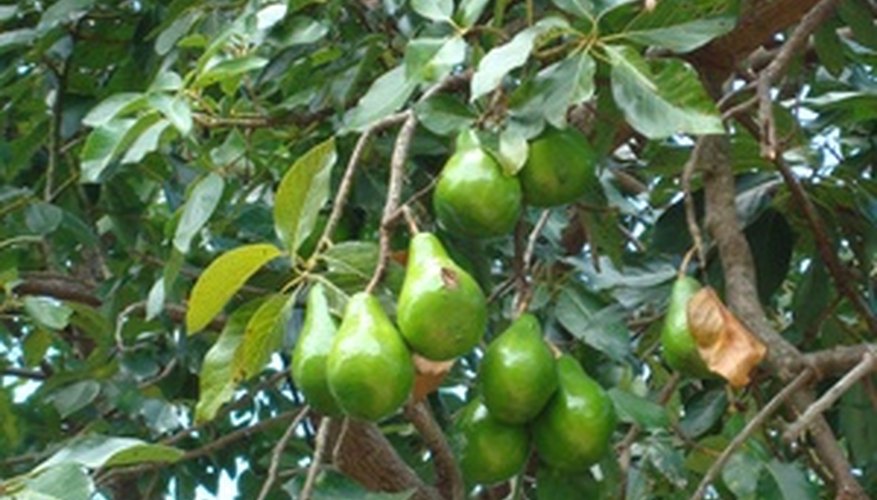 Eating a tasty avocado picked right off your very own tree is hard to beat. No area grocery store or local fruit stand can provide this type of freshness. Growing healthy avocado trees requires specific conditions and basic maintenance. Newly planted avocado trees properly cared for can produce fruits in as little as two seasons. Now that your avocado tree is planted, plan the care required to ensure it not only survives, but also flourishes.
Shovel a 2- to 6-inch layer of mulch around the base of the avocado tree. Keep the mulch at least 6 inches away from tree trunk and go out between 2 to 5 feet from it. This will keep weeds out of the area and moisture in the soil.
Add additional mulch every season, as needed to maintain a weed-free zone. Extend the mulch out farther, as the avocado tree's canopy spreads.
Supply water to a newly planted avocado tree every other day for seven days. Water once or twice a week for the next two months. Continue to water two times a week (from spring to fall) for the first three years, if rainfall does not provide at least 1 inch of rain weekly.
Remove any fruits already on the avocado tree or any emerging bigger than a grape for the first season. This encourages more development in the branches and other parts of the tree.
Protect the avocado tree from cold weather or freezing conditions. Use blankets draped across the trees, pile the dirt up around the trunk and water thoroughly, if freezing temperatures are predicted
Prune avocado trees only as needed, since some varieties shape themselves and never require pruning. Remove any growth below the graft union that emerges.
Inspect the avocado tree for signs of problems in the form of pests or diseases. Look for any changes in the appearance, texture or color of all parts of the tree.
Contact your areas extension office to identify the problem found. Ask about treatment and control procedures required for your specific condition.