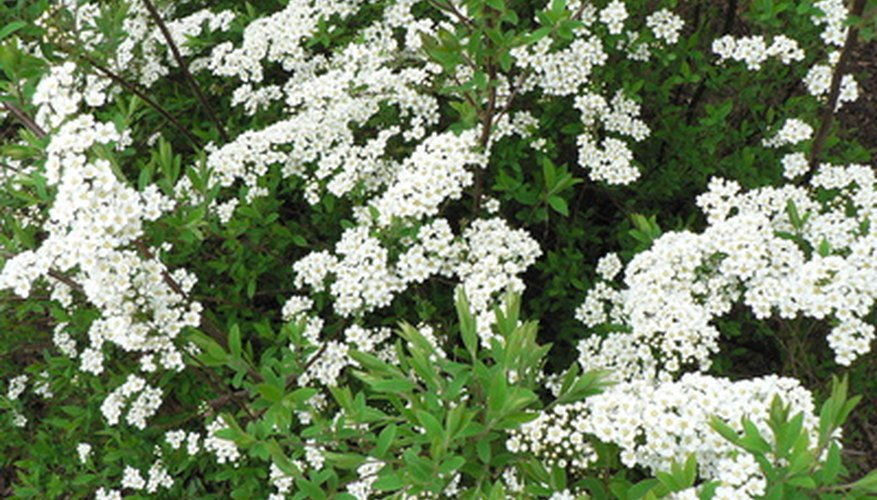 Shrubbery is an invaluable addition to any garden. Providing ground cover and dimension, its green leaves and varied blossoms and berries add color to gardens during seasons where there may otherwise be none. One of the best ways to select shrubs is to choose plants that you admire from a neighbor's yard or a gardening magazine. To make certain you are picking the right variety, proper plant identification processes should be followed.
Observe the time of year in which the shrub blooms. Some shrubs, such as forsythia, bloom in early spring before their leaves have even emerged. Midseason bloomers include Cercis and Deutzia species, and some fall bloomers are Spirea billardi and Hydrangea arborescens.
Look for berries. Some varieties are immediately distinguishable by the berries they produce. For instance, white berries appear on the snowberry bush (Symphoricarpiix racemosus) and high bush cranberry (Viburnum opulus) has deep red berries.
Determine the overall growth pattern of the shrubbery. Shrubbery is divided into three categories of growth: high growth, filler growth and dwarf. High-growth shrubbery will reach heights up to 20 feet, whereas dwarf shrubs may only be 3 feet high.
Examine the plant's leaves. If the plant has flat, full leaves, then it is deciduous. This means that it will keep its leaves until autumn and then become dormant, losing them in winter. If the plant has leaves that look like needles, then it is an evergreen. Evergreens keep their leaves year-round and often produce berries in the wintertime.
Consult a garden expert at a nursery, or look at photos in a plant book and match the picture with the plant. Books such as "Dirr's Hardy Trees and Shrubs: An Illustrated Encyclopedia" offer a comprehensive list of shrubs with full illustrations. When consulting a garden expert, be sure to bring a sample of the plant with you to help the gardener better assist you with its identification.