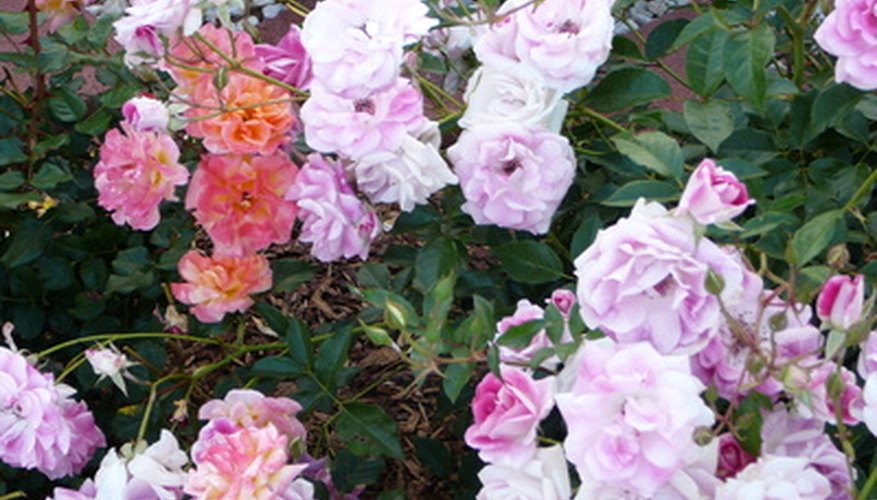 Rose gardens are the holy grails of gardening enthusiasts and rose growers. A wide range of rose species and cultivated varieties exist, from miniatures that grow tiny rose blooms and stay lower to the ground, to grandiflora roses, which can reach up to 6 feet in height with massive blooms. Depending on your climate, you'll need to grow the best rose varieties that will thrive in your rose garden. Choosing the proper rose cultivars is half the battle when caring for and maintaining a rose garden.
Water your rose bushes at least twice each week throughout the spring, summer and early autumn. Water your roses in the morning, providing them with a minimum of 1 inch of water per week.
Feed the roses in your rose garden with a commercial rose fertilizer, such as a 5-8-6 NPK (nitrogen-phosphorus-potassium) formulation, according to the dosage instructions on the label. Apply the rose fertilizer after the first blooms emerge in the spring and once every three weeks afterward throughout the active blooming period.
Spread a 3-inch layer of wood chips or well-rotted organic mulch around the base of your rose garden bushes to cover the root area. Add more mulch each spring as needed to maintain a 3-inch-thick layer.
Prune the bushes in your rose garden once each year in winter or early spring, while the plants are dormant or barely beginning to show new growth. Prune away all dead, diseased, damaged, crowded or crossing branches.
Stop fertilizing your rose garden in early autumn and gradually stop watering the plants in the fall to prepare the roses for the dormant winter season. If you live in a region that experiences frequent, severe freezes and hard frosts, protect your rose garden bushes by spreading up to 6 inches of bark or wood chip mulch on ground around each plant in the fall and removing it in the spring.