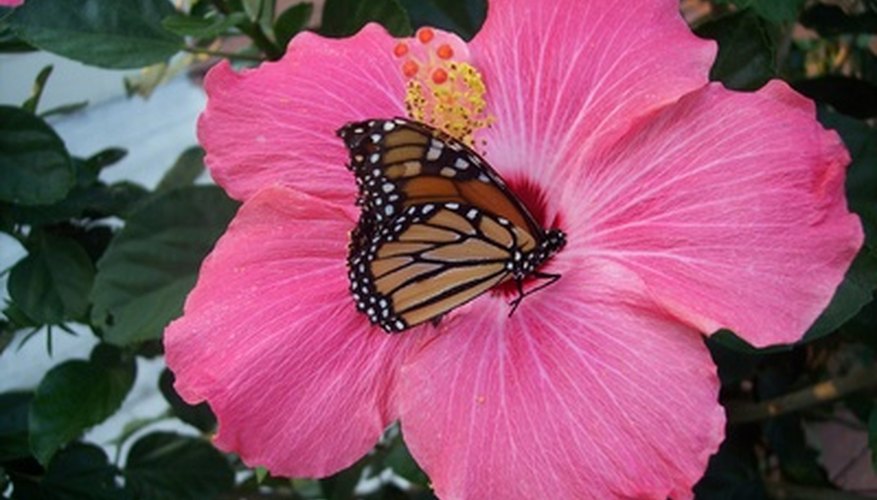 Butterflies need nectar and host plants. A nectar plant is a flowering plant that serves as a food source for butterflies. Nectar plants may be flowering shrubs, trees, perennial flowers or annual flowers. Grow nectar plants in containers if you do not have a garden. The leaves of a host plant provide food for the caterpillar before it begins the metamorphosis into the butterfly. Not all caterpillars eat the same plants. Choose host plants to attract your favorite butterflies. Since the caterpillars eat the leaves of the plant, surround host plants with flowering nectar plants to keep your garden beautiful. Full sun is best to grow butterfly plants and best to attract butterflies. The northern half of Georgia is rated for the USDA Hardiness Zones 7a-7b (cooler) and the southern half is in Zones 8a-8b (warmer).
Best Nectar Plants-Spring Bloom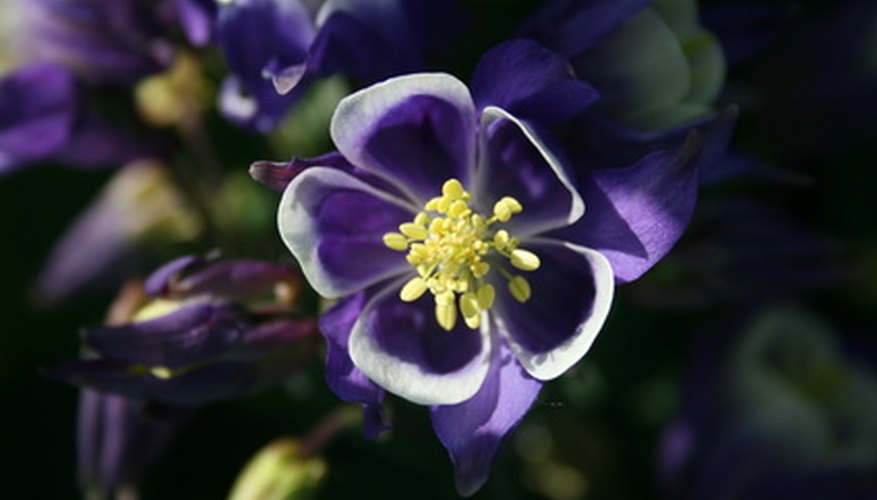 Cheddar pinks (Dianthus gratianopolitanus 'Bath's Pink') blooms in the early spring. Fragrant dark pink petals emerge from bluish-gray foliage; the plant reaches 8 inches across and 7 inches high. Cheddar pinks are hardy in USDA Zones 3 to 9. Plant them in full sun in normal to sandy soil.
Granny's Bonnets (Columbine) blooms in a shades of pink, red, yellow, purple and white from early to late spring and reaches 2 to 3 feet tall. Granny's Bonnets are hardy in zones 3 to 9. Plant them in full sun in normal to sandy soil.
Moss pink, or creeping phlox, (Phlox subulata), is an an evergreen, creeping groundcover, which blooms in early to late spring in shades of pink, purple and white. It grows just 6 inches tall, and spreads about 2 feet, and is hardy in Zones 3 to 9. Plant creeping phlox in full sun in normal to sandy soil.
Best Nectar Plants-Summer to Fall Bloom
The butterfly bush (Buddleia davidii) is the reigning queen of the butterfly garden. This shrub reaches 5 to 10 feet tall and blooms from summer to fall with long clusters of flowers in shades of pink to deep purple. Plant butterfly bush in full sun in moist, well-drained soil. It is hardy in Zones 5 to 9.
Coneflower (Echinacea purpurea) blooms in large daisy-shaped flowers from summer to fall in a range of colors. The stems reach 2 to 4 feet high. Plant coneflower in full sun in moist, well-drained soil; it is hardy in Zones 4 to 9.
Brazilian verbena, also called stick verbena (Verbena bonariensis), is a self-sowing annual in cool climates. It will sometimes return in Zone 7 and may return regularly in Zones 8 or warmer. Reaching 3 to 6 feet tall, verbena bears loose purple flowers from summer until frost. Plant verbena in full sun in normal to dry soil.
Asters bear daisy-shaped purple flowers from early to late fall, and can reach from 1 to 4 feet tall depending on the variety. Plant asters in full to part sun in normal or clay soils. Asters are hardy in zones 3 to 8.
Marigolds bear dainty flowers in shades of orange and yellow from summer to frost. They grow from 6 inches to 3 feet depending on the variety. Plant marigolds in full sun and normal soil. Since marigolds are annuals, replant them every year.
Host Plants (Caterpillar Food) for Common Butterflies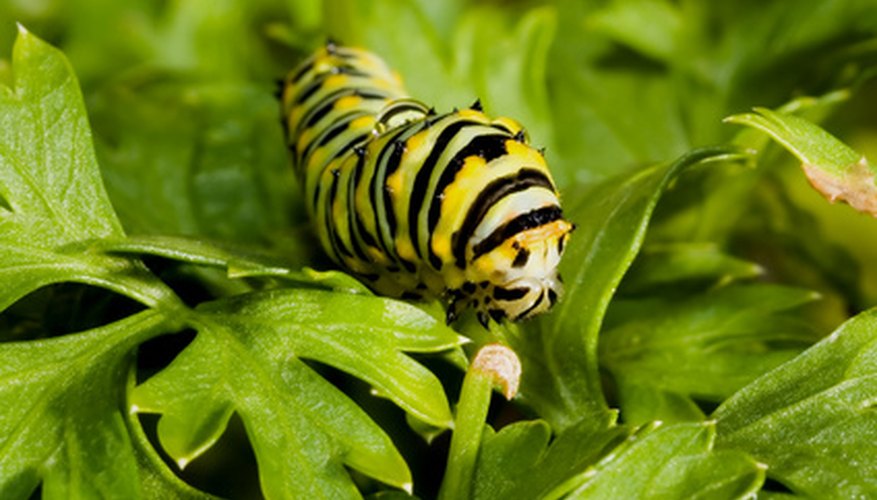 Milkweed is the only host plant for caterpillars of the Monarch Butterfly. Monarchs overwinter in Mexico, returning to the U.S. in spring and returning to Mexico in autumn. There are more than 100 species of milkweed, but two are more common for home gardens.
Swamp milkweed (Aslcepias incarnata) blooms in the summer and grows 2 to 4 feet tall. Plant swamp milkweed in full sun and moist to wet soil. It is hardy in Zones 3 to 9.
Butterfly weed (Asclepias tuberosa) reaches 2 to 3 feet tall and blooms in the summer. Plant butterfly weed in full sun in average to dry soil. It is hardy in Zones Zones 4 to 9.
The Black Swallowtail Butterfly prefers bronze fennel (Foeniculum vulgare) as a host plant for the caterpillars. Bronze fennel blooms in the summer and reaches 4 to 5 feet tall. Plant bronze fennel in full sun, in moist, well-drained soil. It is hardy in Zones 5 to 9.
Eastern Tiger Swallowtail Butterflies are plentiful when weeping willow trees (Salix babylonica) are available as host plants. The graceful weeping willows reach 30 to 50 feet tall. Plant willows in full sun in moist to wet soil where they have plenty of room to spread out. Weeping willows are hardy in USDA Zones 6 to 8.
Designing Your Butterfly Garden
Attract butterflies to your garden by providing a variety of nectar plants that flower from spring through autumn.
Use a butterfly bush as a primary plant. Butterfly bush is a great flowering shrub that will bloom in spring and repeat bloom until frost with deadheading. Use a purple, white or yellow buddleia to separate cool colors from hot colors in your garden.
Coneflowers (echinacea), bee balm (monarda) and verbena are good choices as perennials that can be grown together for a pink and purple color scheme.
For bright colors, grow masses of zinnias and marigolds, two favorite nectar plants for butterflies.
To watch the amazing metamorphosis (life-cycle) of the butterfly, provide host plants for the caterpillars to eat.
Bronze fennel is an easy herb to grow that will provide food for the caterpillars of the Black Swallowtail Butterfly. Surround the yellow-flowering bronze fennel with zinnias and marigolds.
For raising Monarch Butterflies, grow milkweed. Swamp milkweed (asclepias incarnata) is the best host plant for Monarch caterpillars or "cats." Available in pink, swamp milkweed works well with the pink and purple color scheme. The cats will eat all of the leaves, so it is best to surround the milkweed with late-blooming nectar flowers such as tall zinnias.
If there are willow trees near your garden, you may see Tiger Swallowtail Butterflies. No need to hide the willow foliage as you will hardly notice any missing leaves on the tree.
Provide water for butterflies with play sand added to a shallow bird bath or dish to create a "beach." Keep the sand moist for the butterflies.
Do not use pesticides or chemicals in your garden that will harm the caterpillars and butterflies.
Grow a beautiful garden by using colorful nectar flowers and host plants for butterflies!
Resources