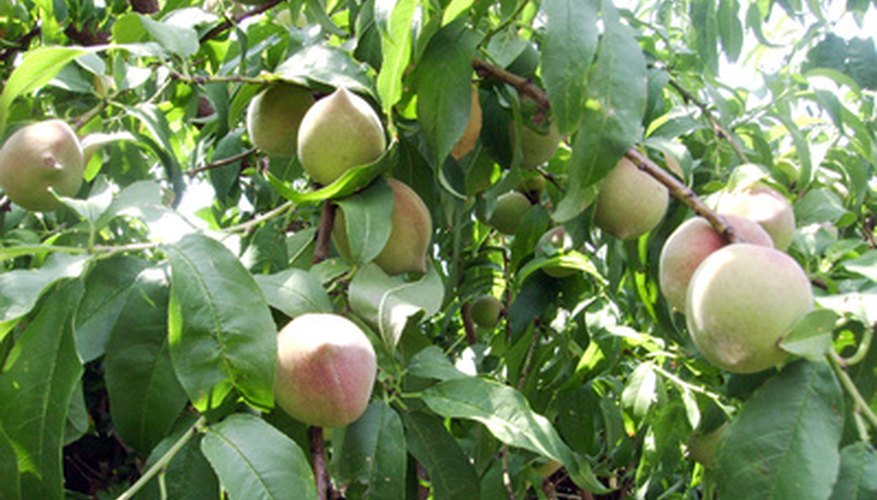 Fresh fruit from the home garden is the rewarding result of efforts to raise fruit trees. Though temperate winters and hot, humid summers present challenges for fruit growers in the Houston area, some varieties do well in the Gulf Coast. Choose recommended fruit trees for this region, and you can enjoy fruit from your own trees.
Apples
Apples aren't usually thought of as a southern crop, but a few varieties with low chilling requirements grow in the Houston area. Anna, Golden Dorsett and Crispin are three varieties that produce here.
Citrus
Many Houston backyards feature citrus trees, though periodic cold winters make citrus growing risky. Mature, established trees survive the cold better, so take care to protect younger trees. Meyer lemon, grapefruits and oranges do best. The Republic of Texas orange is one recommended orange variety. Many grapefruit varieties do well in the Houston area.
Figs
Many varieties of figs produce well in Houston's hot, humid summers and mild winters. Figs can be subject to predation by insects, including fire ants. Texas A&M University recommends choosing "closed eye" varieties of figs, such as Celeste, LSU Purple, Alma and Banana.
Peaches
Choose peaches with low chilling requirements for the best success in Houston. Texas A&M has developed several varieties for the Gulf Coast, including Tex Star, Tex Royal and Tex Prince.
Pears
Both Asian and American varieties of pears will grow in Houston, provided you choose varieties that are blight resistant and have low chilling requirements. Texas A&M horticulturalists recommend Tennessee and Southern Queen, as well as the Asian cultivar Tennosui.
Plums
Small, tart red and yellow plums do well in Houston. These types of plums are best suited for jams and jellies. Gulf Blaze, Gulf Beauty, Inca and Shirley are four varieties recommended by horticulturalists at Texas A&M University.
Pomegranates
Pomegranates are small trees or bushy shrubs originally from Southeast Asia. The fleshy-rind fruits are full of seeds surrounded by juicy red pulp that is tart and refreshing. Though a tropical fruit, pomegranates are fairly cold hardy. Several varieties grow well in Houston, reports Harris County horticulturalist Bill Adams, including Cranberry, Davey and Cloud.