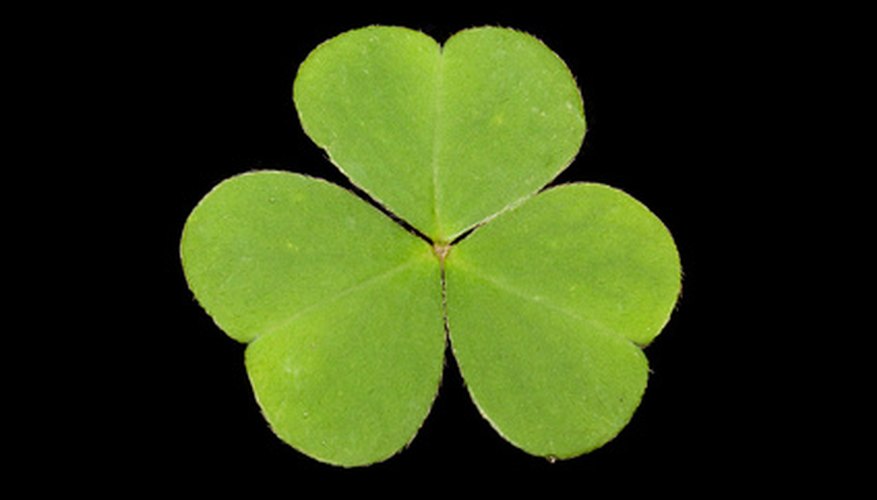 Oxalis regnellii is called "shamrock plant." It has leaves shaped like shamrocks and pretty white five-petaled flowers that grow on long stems. The shamrock plant blooms in the spring. Despite its name, it is native to South America and South Africa and does not hail from the Emerald Isle.
Care Considerations
Oxalis regnellii plant bulbs grow best in moist soil with lots of indirect light and cool conditions. They do not appreciate direct sun. When they need a break, their leaves turn yellow or brown, usually in the fall. That is the time to remove the spent leaves and set the plant in a cool, dry place where it can go dormant for three or so months. After the rest period in the spring, the shamrock plant will come back refreshed and resume growing. Help it along by watering regularly and fertilizing from time to time as required. Repotting annually ensures the health of the plant and gives it a fresh start.
Shamrock Identification
The word "shamrock" derives from the Irish "seamrog," which means "little clover." It is a direct definition of the heritage of the shamrock. Most botanists agree the original shamrock plant of Ireland is the white clover or Dutch clover (Trifolium repens). Irish botanist Nathaniel Colgan (1851 to 1919) reached this conclusion after studying samples of clover plants sent to him from different counties of Ireland. Colgan's published findings, "The Shamrock: A Further Attempt to Fix Its Species," appeared in 1893 in the "Irish Naturalist." Colgan's findings indicated that Trifolium repens was the true shamrock plant,
Religious Symbol
It was an early Celtic belief that the white clover plant could ward off evil spirits. Eventually, the shamrock became a religious symbol in Ireland, just as the passion flower (Passiflora) did in South America, where its parts illustrated the passion of Jesus Christ. Both plants were central to the cause of conversion to Christianity. During the fifth century, Saint Patrick (387 to 493) used the shamrock to demonstrate the meaning of the Holy Trinity. The three leaves represented the Father, the Son and the Holy Spirit individually, all part of one stem.
Political Significance
During the 19th century reign of Queen Victoria, wearing the shamrock in Ireland was a sign of rebellion against British rule. To wear a shamrock was a crime that could draw the death penalty.
Worldwide Recognition
Today, the three-leaf clover shamrock is a worldwide symbol of Saint Patrick's Day (March 17), of Ireland itself and of "the luck of the Irish." Irish brides tuck shamrocks in their bouquets and Irish grooms wear a sprig in their boutonnieres.