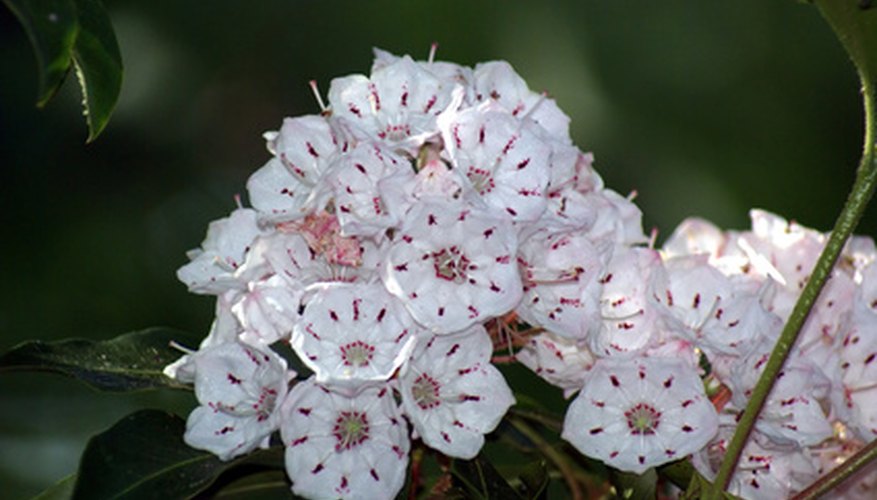 mountain laurel image by Tijara Images from Fotolia.com
The addition of shrubs to the landscape promotes a feeling of permanence in the plantings. Shrubs anchor gardens to provide both continuity and stability in the design. As trees mature, spreading canopies can obscure once sunny areas in the garden. Light requirements for shade shrubs differ from their sun-loving brethren. Shade shrubs can tolerate lower levels of sunlight based on the very design of their leaves. Adding shrubs that will grow in the shade to your landscape fills in these shady areas to complete the landscape design.
Mountain Laurel
Some shade-loving plants prefer the filtered light that appears through a thick canopy of a tree. Mountain laurel thrives in the partial sun location provided from dappled shade. These shrubs have glossy thick lives and produce a profusion of blooms in clusters of white that completely cover the bush to the point of obscuring foliage. Mountain laurel blooms in late May or early June in zones 4 and 5. This evergreen shrub naturally forms a rounded shape and can expand up to 12 feet high and wide. Allow plenty of room for the shade loving mountain laurel. Mountain laurel won't tolerate deep shade and will exhibit thinning foliage as well as few blooms when planted in these locations.
Rose of Sharon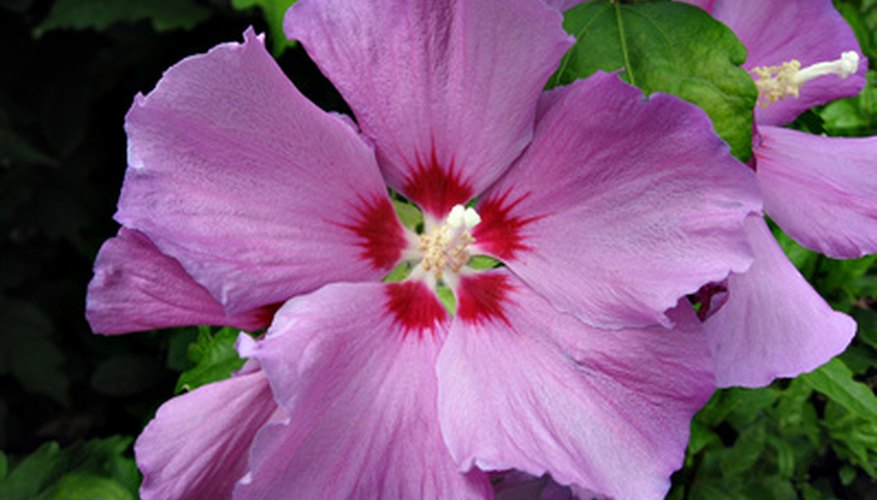 Few plants flower profusely at the end of the summer growing season. The rose of Sharon, however, produces abundant hibiscus-like blooms to add color to the late summer garden. This plant tolerates partial shade and grows in an upright manner that limits the need for intensive pruning. Rose of Sharon works well in zones 5 to 9 and can reach heights of up to 12 feet. Flower colors include pink, white, lilac, red and purple. Rose of Sharon prefers filtered sunlight and well-drained soils.
Japanese Barberry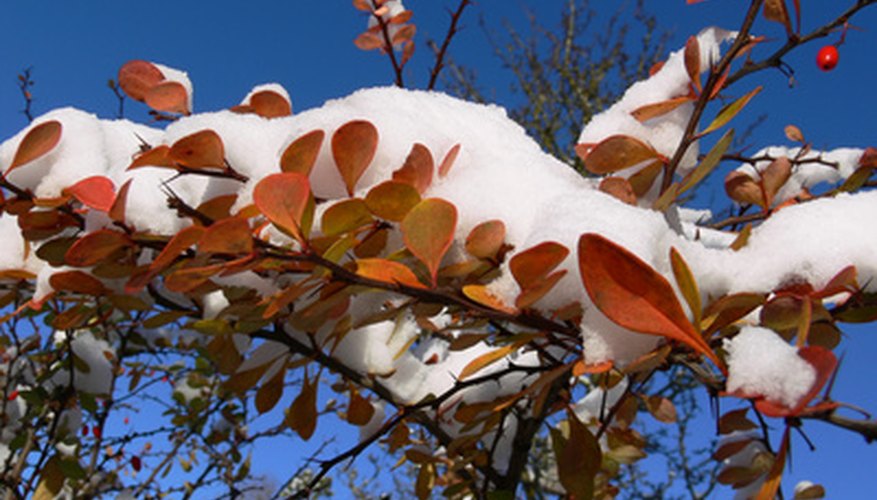 Few plants can tolerate a range of growing conditions with aplomb. The Japanese barberry adjusts to light conditions ranging from deep shade to full sun. This stunning plant features reddish-purple foliage on long stems lined with thorns. Barberry can be allowed to grow into a natural rounded shape or pruned to a tailored hedge shape. Barberry tolerates most growing conditions but performs best in well drained, organic soils. Barberry produce small yellow flowers in late spring and dramatic red berries in the late fall. This plant works best in zones 4 to 8 and can grow up to 5 feet in height. Barberry leaves will moderate color slightly to take on a green hue when planted in deep shade. Prune this plant regularly to promote thick growth through the center of the plant.