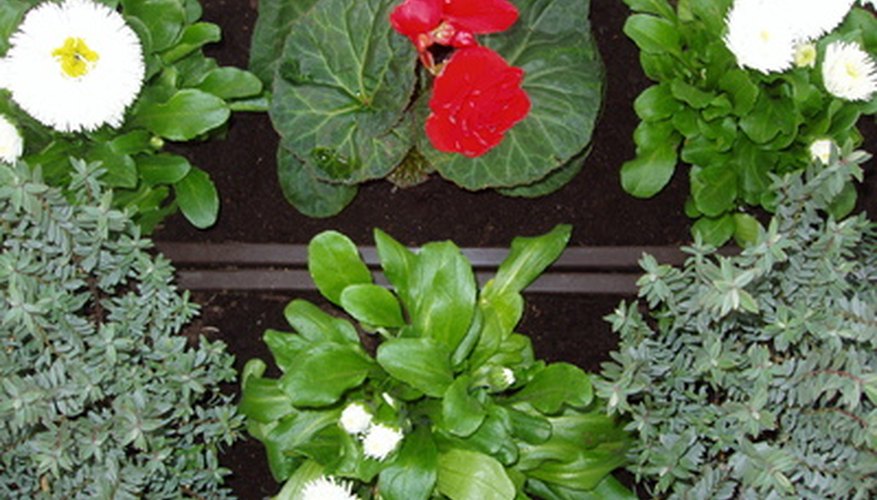 Growing herbs in the kitchen window is a popular way to use attractive plants to spruce up the kitchen while also providing plenty of options for creative cooking. Most herbs can be easily grown in a kitchen window and in most cases the added bonus is that the more you harvest them, the more they grow.
Select a window that gets at least four to five hours of sun each day and isn't drafty. The best windows face the south or southwest. Herbs aren't likely to grow in north-facing windows because there isn't enough direct sunlight coming from that direction.
Buy small starter herb plants or packets of seeds for the types of herbs you want to grow. Most herbs grow well inside and thrive as you trim them for use but some such as cilantro and dill don't regrow after each cutting or harvest, so you may want to select herbs you can get the most out of for indoor gardening space.
Select the herb growing containers you'll be using in the window. Small individual pots will allow you to move things around as needed, and one long windowsill container makes an attractive display as the herbs are growing. Whether you're using pots or one container, make sure they're at least 8 to 12 inches deep.
To plant seedlings, spread several inches of quality potting soil in the bottom of the pots or container, then place the live seedling plants on top and fill in the rest of the area with potting soil. Water well and lightly tamp down the soil firmly.
To plant seeds, fill your pots at least three-quarters full with potting soil, then spread the seeds evenly on top. Spread another inch or 2 of soil on top of the seeds and water well.