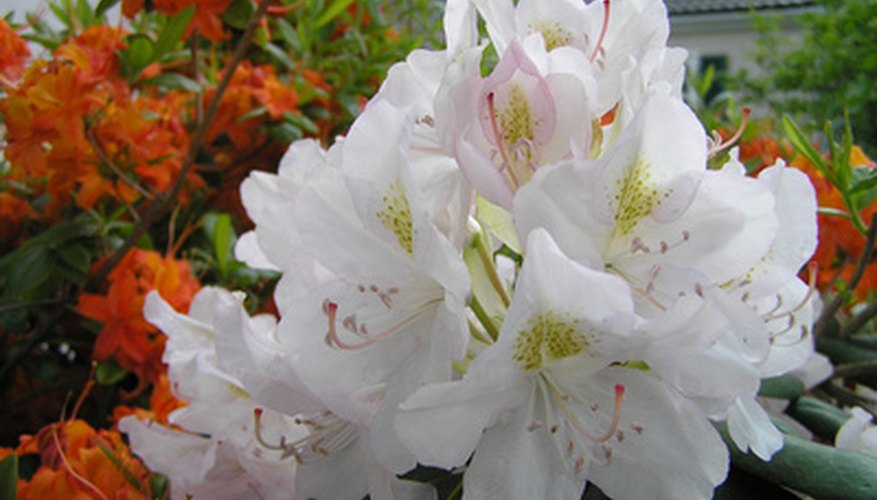 Spring is often thought of as the flower blooming season, and early June, just before summer begins, is no exception. Many shrubs and plants offering a riot of color and scent as earlier bloomers are becoming a more distant memory. Bloom times depend on variety and climate, of course, but many plants reliably offer an early June exhibit suitable for use in simple tabletop arrangements and elaborate wedding bouquets alike.
Peonies
These perennials are long-lived plants that produce large flowers throughout the spring, according to the North Carolina State University Department of Horticulture Science. Blooms range in color from creamy white to fuschia. Thousands of cultivars are grown, many for their pleasing scents. Bloom time depends on variety. Some mid-season bloomers include the red Felix Supreme, pink Philomele and white Shirley Temple.
Lilacs
Some lilac varieties blooms later than the others. LilacsForever.com notes that Miss Kim, a semi-dwarf bush, blooms in early June, after old fashioned and French cultivars have faded.
Tall Bearded Iris
Several tall bearded iris varieties, with their large, vibrant flowers, bloom in June, and some newer cultivars even re-flower in the summer and fall, according to the North Carolina State University Department of Horticulture. Darkside purples and blue Spinning Wheels are some traditional types of tall bearded iris, while re-bloomer examples include Late Lilac and white Silver Dividends.
Rhododendrons and Azaleas
Both bush varieties feature eye-catching, bountiful flower clusters, many of which bloom in early June, that range from bright pink to deep red. Dark green, waxy leaves offset the blooms. Bushes work well as focal points or clustered together for maximum visual impact, according to the American Rhododendron Society.
Southern Magnolias
These trees, recognized as "an emblem of the South," according to Dr. William C. Welch, of Texas A&M University's Horticulture Department, are known for their cup-shaped creamy or light pink flowers. But their real claim to fame is their bloom's strong scent, comparable in strength to jasmine.
Annuals
Many annuals begin blooming in early June and don't stop until the first significant frost, which is what makes them so popular, despite their inability to grow back the following year. Some early June bloomers may include forget-me-not, cosmos, petunia, Dusty Miller, spider flower, larkspur and marigolds, Purdue University Cooperative Extension Service states.