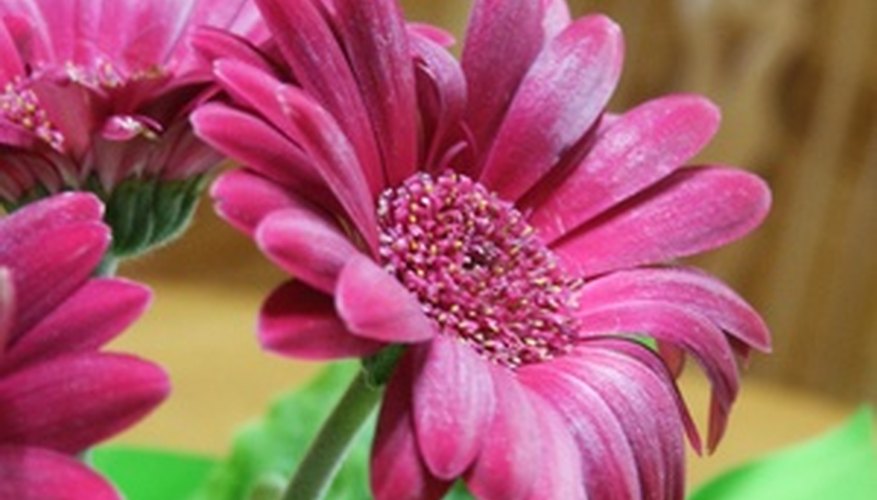 The Gerber daisy offers color and interest to the flower garden. Although division is a common way to propagate Gerber daisies, it is easy to propagate the Gerber daisy from basal cuttings. Basal cuttings also allow for the generation of more plants. Gerbera daisies are a tender perennial, and in northern climates do very well as a potted plant, which must be brought in during cold weather.
Take basal cuttings of Gerber daisies during the summer when the plant has an established root system and contains healthy growth.
Make a sharp cut at a diagonal as close to the base of the flower as possible. Do not remove the leaves from the flower stems until the cuttings are ready to be planted. Place the cut flowers in a container of water until needed.
Moisten the potting soil with warm water to ensure a consistent moisture. Do not saturate the soil, as too much water causes cuttings to rot.
Fill a container with the potting soil. Make three or four deep holes in the potting soil to plant the Gerber daisy cuttings.
Cut the basal cuttings into 4-inch sections, leaving at least two leaf nodes at the bottom of the Gerbera daisy cutting. Remove the flower and all but two leaves from the cuttings.
Pour 1 tbsp. of rooting compound into a small plastic bag and dip the Gerber daisy cuttings into it to coat the bottom of the stem. Shake off any excess rooting compound and stick the stem cutting into the holes of the potted soil. Repeat the process, if desired, until there are three or four cuttings in the pot.
Slide the plastic bag over the pot and cuttings, creating a miniature greenhouse. Secure the bag at the top rim of the growing pot with a rubber band.
Place the cuttings in a warm, bright location out of the way of direct sunlight after they have germinated. Remove the plastic bag and continue growing. Repot the Gerber daisy and continue growing as desired.