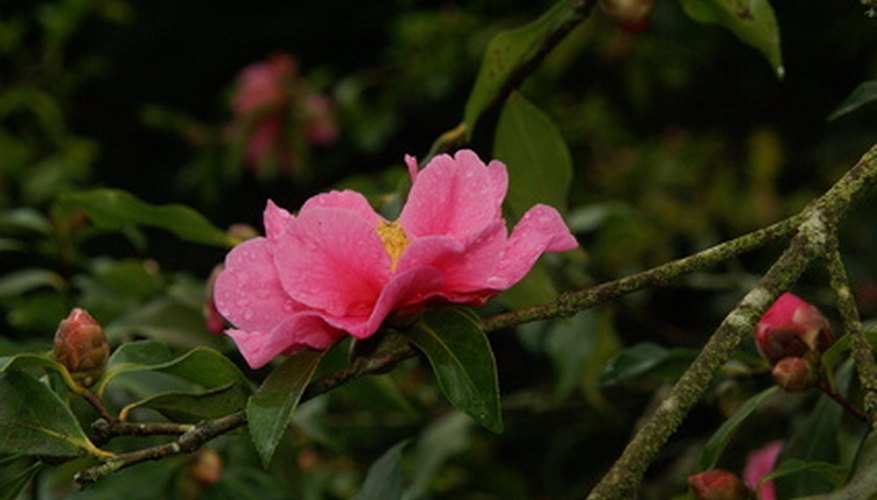 Camellia blooms throughout fall, winter and spring. These ornamental tree-like shrubs thrive in areas with mild winters and humid summers. The dark green, glossy leaves add color to the garden year-round, whether the camellia is planted in an ornamental bed or as part of a shrub border. Proper fertilizing of the camellia helps ensure it produces the maximum amount of flowers while maintaining its attractive foliage. Camellias are fairly light feeders, so only minimal fertilization is required.
Lay a 2- to 3-inch layer of pine bark mulch over the area if you are planting a new camellia shrub. Till the mulch into the soil to a 12-inch depth using a power tiller or shovel. This adds nutrients to the soil while also aiding the drainage of the planting area.
Fertilize with a superphosphate fertilizer, such as a 0-46-0, immediately after planting to encourage healthy root development. Follow fertilizer label instructions for exact amounts.
Fertilize camellias regularly beginning in the second year after planting. Apply 8 to 16 ounces of cotton seed meal fertilizer per each camellia plant after the shrubs stop blooming in spring. Alternately, use a camellia fertilizer following label directions. Apply it to the soil 6 to 8 inches away from the trunk to avoid burning the roots.
Water the camellia immediately after fertilizing so the fertilizer begins leaching into the soil where the plant can access it. Rinse the leaves and trunks with the water to ensure there is no fertilizer residue on them.
Lay a fresh 3- to 4-inch layer of pine bark mulch around the camellia after fertilizing each year. The mulch breaks down and adds organic matter and nutrients to the soil over time.
Things You Will Need
Compost

Tiller

Shovel

Superphosphate

Cotton seed meal

Mulch
Warning
Never fertilize camellias while the plant is dormant and not actively growing. Fertilizing right after the flowers drop ensures the plant is still actively growing.