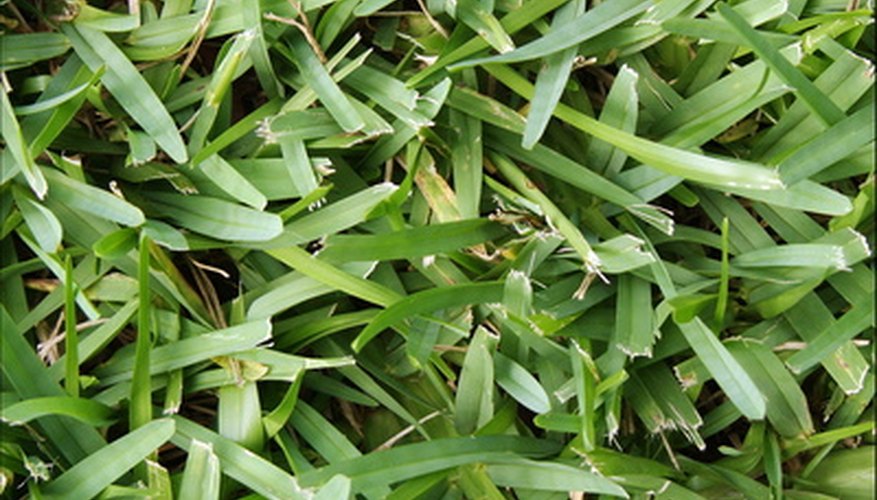 Sprigging is one of the fastest ways to expand a St. Augustine lawn. Planting sprigs, also called stolons, is also a cheaper alternative to laying St. Augustine sod. St. Augustine naturally spreads through runners, so you can take advantage of this to plant a new lawn or fill in bare spots in an existing lawn. Though a sprigged lawn takes longer to establish full coverage than a sodded lawn, you'll have a complete lawn much more quickly with sprigging than with planting grass from seed.
Separate the St. Augustine sod by hand or with a knife into individual sprigs, each with a few roots; 1 square yard of sod will yield about 500 sprigs.
Insert the blade of the spade into the ground at a 45-degree angle and approximately 2 inches deep. Remove the spade without turning over the soil.
Slip the root end of the sprig into the slit made by the spade. Leave the other end of the sprig sticking out of the ground.
Step on the ground above the sprig, sealing the slit.
Water the newly planted area when all of the sprigs are planted. Provide about 1/2 inch of water daily during periods of no rain until new growth appears on the sprigs. Apply 1 inch of water twice a week thereafter.
Things You Will Need
Shovel

Sharp knife

Sharp spade
Tip
Oregon State University recommends planting sprigs 10 to 20 inches apart for best coverage. The University of Georgia recommends 6- to 8-inch spacing. Closer spacing means faster time to full coverage.