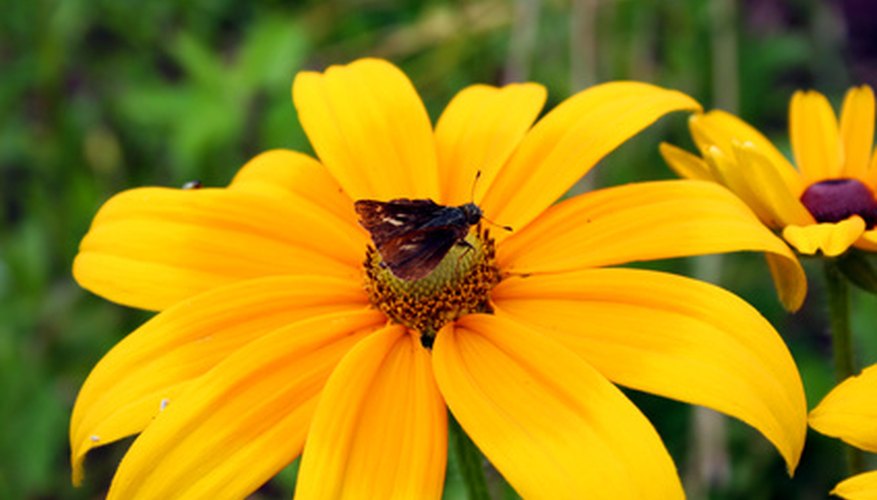 Black-eyed Susan (rudbeckia hirta) gains its name for the characteristic dark brown center that provides sharp contrast to its golden daisy-like petals. These hardy plants grow wild across much of North America. According to Texas A & M University, it may be the most common wild flower in America. Cultivated varieties range in petal color from pale yellow to orange and bronze making them a striking addition for any sunny garden. Most are perennials and return each year in large clumps, but some are annuals or biennial.
Plant seeds inside six to eight weeks before the last expected frost in your area for early blooming. Place seeds in moist seed starter to a depth of 1/8 inch and cover lightly with soil. Press to firm down the soil and settle the seeds. Rudbeckia seeds vary in germination time, depending on the specific cultivar and soil temperature. Germination time ranges from five days to up to 30 days. Check the germination time on the seed packet. Move seedlings to a sunny location once they germinate. Check daily and keep soil moist.
Prepare a bed in a sunny location by tilling the soil to a depth of 8 to 10 inches. Remove any rocks or debris and add 2 to 3 inches of organic material like well-rotted manure or compost. Mix in well with the soil to improve drainage. Although black-eyed Susan tolerates nearly any soil, it does not like wet, soggy soil.
Transplant seedlings to the garden once the danger of frost has passed. Black-eyed Susan typically shows signs of wilt as it adjusts to the new environment. Water well and keep the soil moist. Once established, black-eyed Susan is drought tolerant and does not require supplemental watering, unless you experience excessive dry periods.
Fertilize lightly with water-soluble fertilizer when blooming begins and repeat monthly.
Remove spent blooms by clipping the flower stem back to the ground level as soon as blooms begin to fade to encourage prolonged blooming.