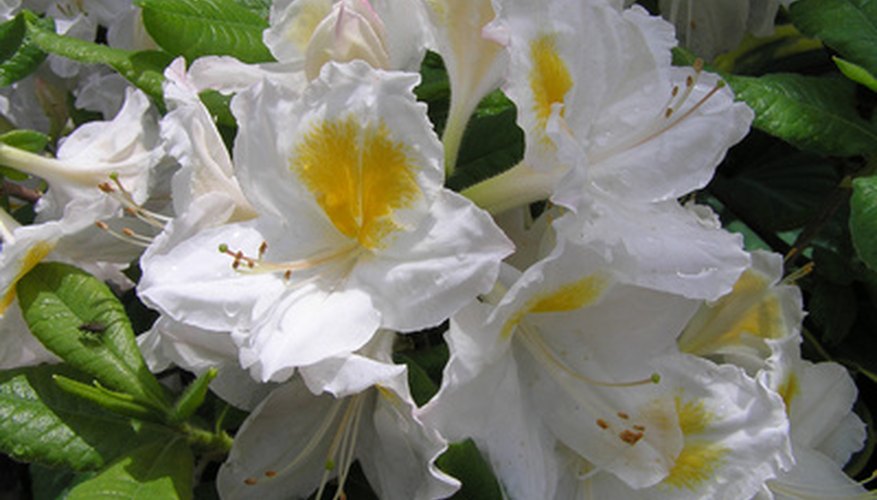 Broad-leaf evergreen shrubs are highly desirable with home gardeners who want to create a hedge, privacy barrier, screen or simply want a shrub that will maintain most of its leaves throughout the year. While no evergreen broad-leaf shrub is able to avoid dropping a few leaves, especially in unusually harsh winters, most of these shrubs--which can have large or tiny leaves--will hang onto a large percentage of their foliage, keeping a pleasingly beautiful shape year-round.
Rhododendrons (Rhododendron spp.)
With more than 2,000 different types, rhododendrons (also called azaleas) compose the largest group of woody ornamental in the world, according to Christopher J. Starbuck, a horticulturist with the University of Missouri. Rhododendrons can range in size from a couple of feet to over 15 feet tall; they feature glossy, dark green leaves and colorful clusters of flowers. While the specific needs of these plants can vary by species and cultivar, their basic culture is very similar. Most need cool, moist soil and partial shade. These plants thrive in United States Department of Agriculture growing zones 6 and 7.
Glossy Abelia (Abelia grandiflora)
Like rhododendrons, glossy abelia thrives in USDA zones 6 and 7. An excellent choice for cool, moist climates, this evergreen shrub is a profuse bloomer, featuring small pink flowers that continue to bloom from spring to the first frost. Once cool weather arrives, the green leaves turn an interesting purple color. Glossy abelia can reach heights of 5 feet, but is usually smaller in home gardens.
Boxwood (Buxux sp.)
Boxwood is extremely popular with landscapers and home gardeners for its ability to be shaped in a neat hedge or topiary. The "Korean" boxwood is considered to be the hardiest and easiest to care for, although the leaves can discolor due to sun scorch. The plant features small, attractive leaves and grows well in USDA hardiness zones 5 through 7.
Oregon Grapeholly (Mahonia aquifolium)
Oregon grapeholly is prized by home gardeners who want an evergreen, broad-leaf shrub that provides visual interest in all seasons. In early spring, the plant, which can reach heights of 6 feet, blooms with masses of bright yellow flowers. The leaves are an attractive dark, glossy green in the summer. Oregon grapeholly also produces interesting bluish, grape-like fruit in the summer. When fall arrives, the leaves change to a burgundy or purple color. In windy locations, the foliage may drop in the winter.