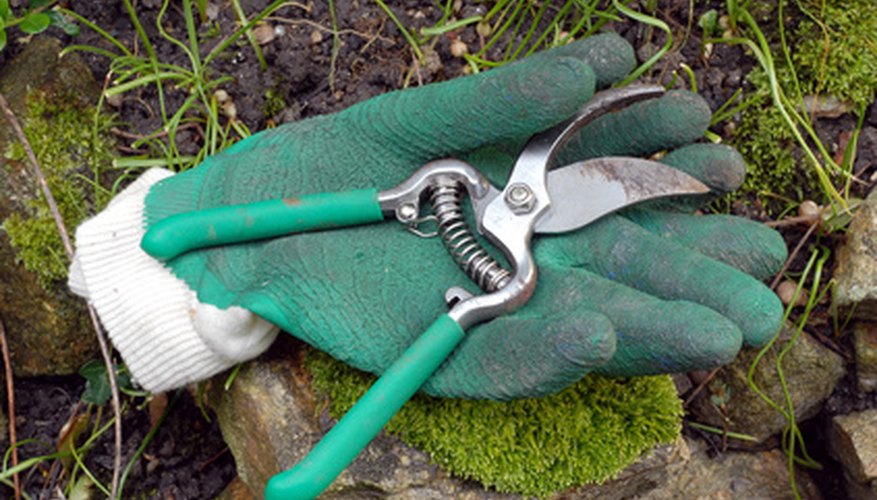 Bushes and trees may need to be trimmed or pruned to control growth, remove dead or damaged foliage or as part of the growing cycle. Bushes may be cut back dramatically each year. The size and design of tool can range from a one-handed cutter to a two-handed power saw. Knowing the use for each tool can help determine what tool is right for the job.
Pruning Shears
Pruning shears, also called hand shears or pruners, are a scissor-like hand tool for cutting stems and limbs less than 3/4 inch in diameter. The blade of the shears may be straight or curved. Curved shears can help to hold the stem or limb as you squeeze the handles.
Lopping Shears
Lopping shears, also called loppers, have long handles to reach within a bush or to extend your reach about 18 inches to cut a branch. The cutting edge is curved, helping to hold a limb as it is cut. Use lopping shears to cut a branch up to 1 1/2 inches in diameter.
Hedge Shears
Hedge shears may be manual or powered (electric or gas-operated). Manual hedge shears have long, straight blades and handles. Powered hedge shears have a single, long blade with one cutting side that pulses back and forth. Both types of hedge shears are used only for sculpting hedges.
Pruning Saws
Hand saws for pruning may have a straight or curved toothed-blade. The straight blade will be held in an L-shaped frame. The L-shaped frame provides more surface area for two-handed sawing, allowing one hand to make back and forth motions while the other hand applies pressure to the frame of the saw. The curved saw helps to keep the saw situated on a branch. Pruning or hand saws can be used for branches 1 to 6 inches in diameter.
Pole Pruner and Saw
The pole pruner and saw combination is helpful to reach high branches without the use of a ladder. The pole, about 8 feet long, may have only a pruner (clippers), only a saw or both items attached to one end. A long cord is used to open and close the clippers. The saw head will be curved to help keep it on the branch as it is cut.
Chain Saw
A power chain saw may be used for limbs over 6 inches in diameter. For safety purposes, a power chain saw should be limited to cutting limbs lower than waist level.