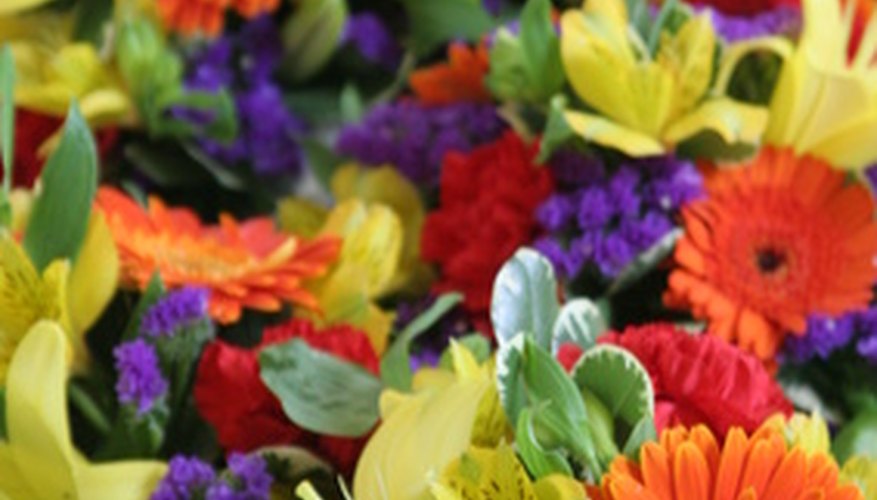 bright colorful flower arrangement image by Paul Retherford from Fotolia.com
If you receive cut flowers in an arrangement or cut your own blossoms, retain the vibrancy of these plants with a homemade preservative. Commercial preservatives are available from a florist, but consider using a do-it-yourself recipe so that you do not have to purchase anything and have the convenience of quickly being able to obtain more if you need it. Making your own cut flower preservative requires only a few common household ingredients.
Wash a vase with hot water and soap to prepare it for the flowers and the homemade preservative. Do not use an unwashed vase as this encourages the growth of bacteria that will shorten the lifespan of your blossoms.
Fill the vase with a quart of lukewarm water and then pour in 1 tsp. of sugar, 1 tsp. of household bleach and 2 tsp. of lemon or lime juice. This combination of ingredients fights bacteria, aids in the flower cell metabolism and ensures that the plants continue to absorb water.
Monitor the water level inside the vase and add more water with the preservative mixture when needed.
Things You Will Need
Vase

Dish soap

1 tsp. sugar

1 tsp. household bleach

2 tsp. lemon or lime juice
Tip
Other options for homemade preservatives involve dropping an aspirin or a solid copper penny in the water.
Warning
Never use a pair of scissors or a dull knife to cut the flower stems because this can damage the plant in the process.