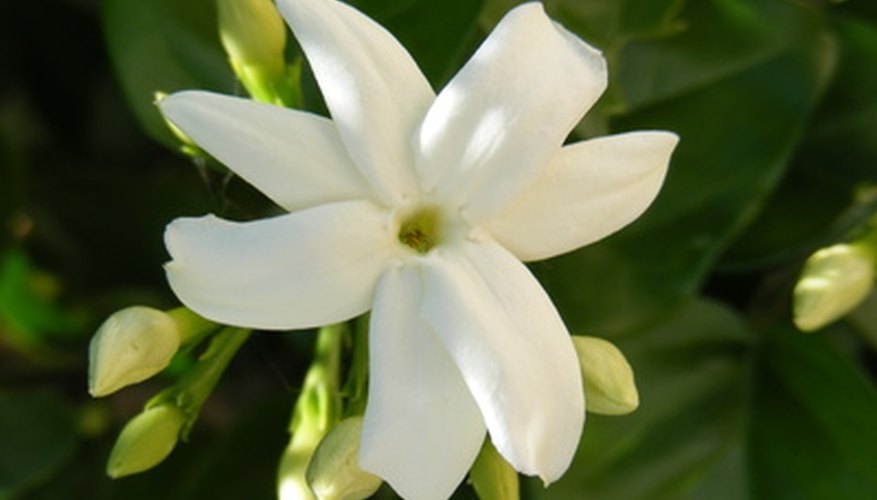 Florida gardeners who use native flowering plants in their gardens, use varieties that are acclimated to the state's climate and the soil conditions. Native plants blend in well with tropical plants common in Florida, resulting in a pleasant blend of sizes, shapes and colors.
Gopher Apple
Gopher apple (Licania michauxii) is a member of the coco plum family and is native to the Southeastern Coastal Plain from South Carolina to Florida. The plant is a shrub that grows about 1 foot tall with stiff leaves that grow from 2 to 4 inches long and 1 inch wide. The plant grows by stems that spread under the ground and the stems can spread out to cover more than 100 square feet of land. The shrub produces small, yellow flowers from spring through summer that grow above the leaves in triangular shaped clusters. Flowers give way to 1-inch long, edible fruit that start out green and become white when ripe. Plant gopher apple in full sun and dry, sandy soil. The plant can be used as ground cover and wildlife will come after the fruit. Gopher apple is hardy in all of Florida and the Florida Keys.
Carolina Yellow Jasmine
Carolina yellow jasmine (Gelsemium sempervirens), also known as jessamine, is a member of the logania family. The plant is an evergreen vine and is native to the southeastern United States. The plant will grow to 20 feet or more if planted in the shade. In the sun, it will be more compact. The vine produces thin, glossy, green oblong leaves that grow from 2 to 3 inches long and yellow tube-shaped flowers that grow in clusters from late winter to early spring. Plant Carolina yellow jasmine in moist, well drained soil. The plant does well on an arbor or trellis, along a fence, in containers and as a ground cover. The plant is hardy in northern and central Florida.
American Beautyberry
American beautyberry (Callicarpa Americana) is also known as beautyberry and French mulberry. The plant is a deciduous shrub that grows from 6 to 8 feet tall with yellow-green leaves that grow from 6 to 8 inches long. In spring, the plant produces small lilac flowers growing in clusters. In the fall, the flowers give way to magenta and violet-colored fruits.
The plant's natural habitat extends from Maryland to Florida, along the Gulf Coast to Texas and into Mexico. Plant in dappled shade and in a well-drained soil. American beautyberry does well planted under tall trees. In full sun, the leaves will turn yellow-green. Birds will stop by to make a meal out of the berries and the plant is hardy in all of Florida except for the Florida Keys.