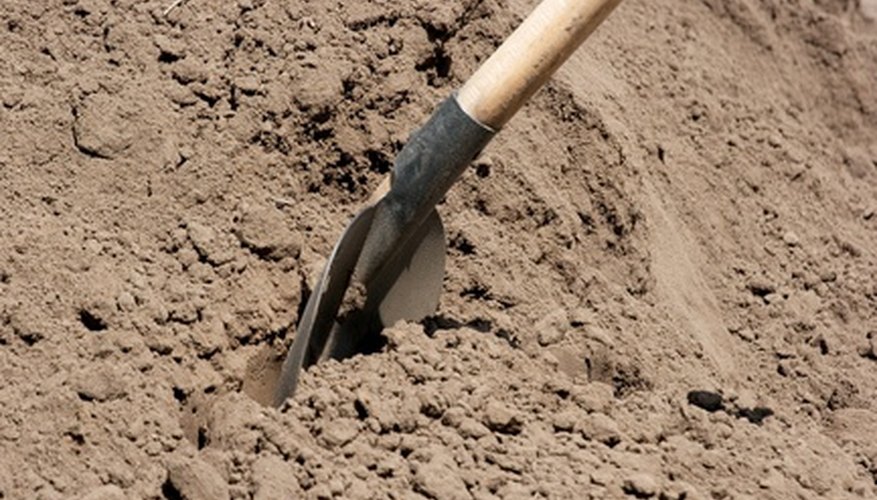 Plants that grow in soil contaminated by substances such as lead or chemicals often pass those substances on to the vegetables that they produce. Although gardeners interested in getting the highest yield from their plants usually have their soil tested yearly, a general soil test will not tell you if your soil is contaminated with chemicals. If you suspect your soil is contaminated, take a soil sample to a lab that specializes in chemical testing.
Contact your local university extension office to see if it offers soil testing for chemicals. Public universities such as Texas A&M, North Carolina State and the University of Minnesota have facilities for general soil testing. Some labs, such as North Dakota State University, also soil tests for herbicides. If the school you contact doesn't offer testing for specific chemicals, it might be able to recommend a laboratory that does.
Dig a 12-inch hole in the ground in the spot you suspect may be contaminated. With a shovel, carve out a 1-inch slice of soil from the side of the hole. Place this in a 1-gallon bucket.
Take 6 to 12 more samples from the parcel of land you believe may be contaminated. Break up the clumps of soil into fine particles by stirring the soil with a garden trowel in the bucket.
Spread a newspaper out in a warm, dry, well-ventilated place. Pour the soil over this newspaper and allow it to dry.
Pour the soil back into the bucket and measure out a pint of soil with a measuring cup.
Pour the soil into a brown paper bag. Seal the bag with masking tape. Take the soil to the laboratory for testing.
Things You Will Need
Shovel

Garden trowel

1-gallon bucket

Newspaper

Measuring cup

Brown paper bag
Tip
Some chemicals, such as aflatoxin, can be detected using a home testing kit. A laboratory can sell you a kit or recommend places to purchase one.
Warning
Most chemical tests are only designed to test for the presence of a specific chemical. Each test is usually a separate charge. You should check with a laboratory in advance for the tests it can run and the price of each test.