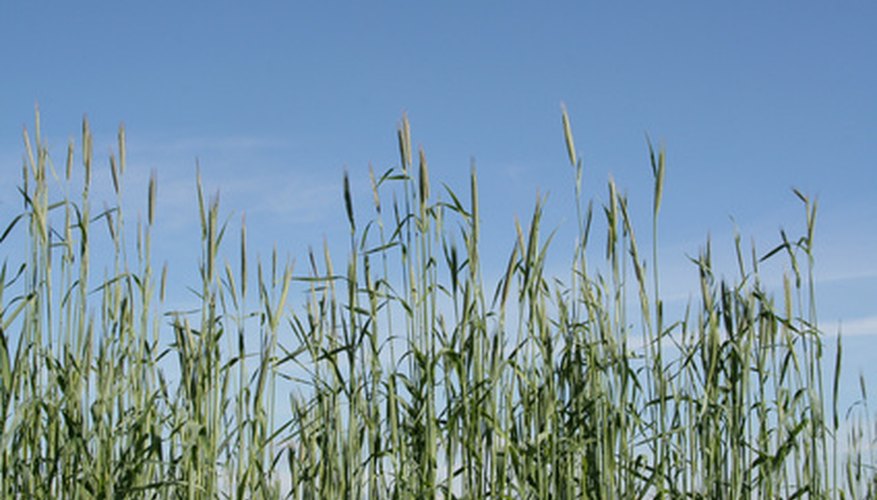 Ryegrasses are used in foraging livestock systems as a source of sustenance for farm animals. Ryegrass has a high yield, is easily digested and is highly adaptable to a variety of soils. Ryegrass comes in both annual and perennial varieties, each displaying its own unique characteristics.
Perennial
Perennial ryegrass (Lolium perenne L.) is also called English ryegrass due to its prevalence in Europe, Asia and North Africa. Perennial ryegrass has a seed head that displays five to 40 spikelets at the end of the grass stem. The leaves of the ryegrass increase in size up the stem, from the first to the seventh leaf. The grass will also have a collar region where the leaf sprouts from the stem.
Perennial Adaptation
Perennial ryegrass lives best in a cool environment where the winter chill will not kill the plant. This variety grows best in the Pacific Northwest and irrigated intermountain valleys in the Midwest and the Northeast. Perennial ryegrass can tolerate both acidic and alkaline soils but requires an annual precipitation of 18 to 25 inches minimum.
Annual Ryegrass
Annual ryegrass appears shiny, dark green and grows to 2 to 5 feet in height. The appearance of annual ryegrass is the same as perennial, save that the spikelets at the end of the stems have awnings, attached to the lemma (the outer bracts that enclose the spikelets). Annual ryegrass behaves as an annual but can also be considered a short-term perennial or biennial.
Annual Adaptation
Annual ryegrasses have a larger planting area and can be adapted to further climates. Annual ryegrass can be planted along the Gulf Coast, Florida and other warm-climate areas during mild winters, as well as in areas with a transitional climate.
Uses
Ryegrass is used as a foraging grass as food for livestock due to its high protein content. Cereal-grade rye is also produced as a food for humans. For foraging, ryegrass is often mixed with bermuda grass sods and other grasses for a complete diet and to extend the foraging season. Ryegrass can also be used as a hay grass. It is also effective in preventing soil erosion.