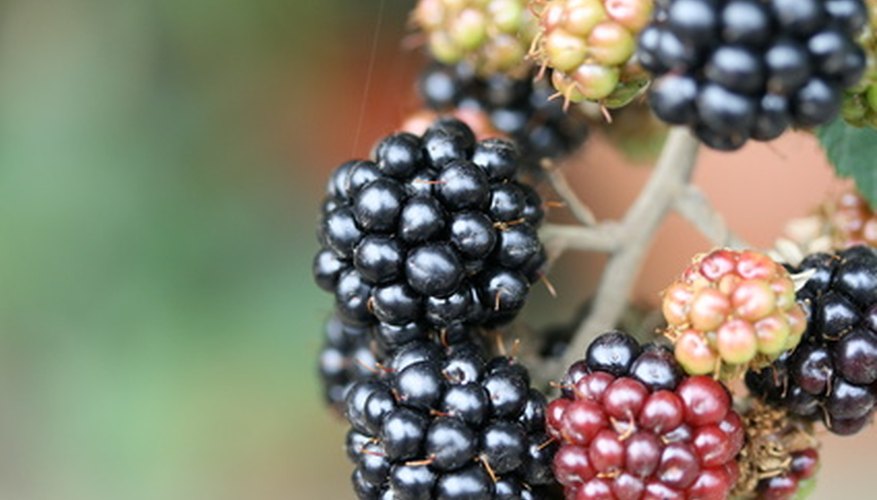 Used in baking, canning or to make jams and jellies, blackberries are deciduous shrubs or vines that grow best in cool, yet humid, regions, including most of Texas. Four USDA plant hardiness zones (6 to 9) are represented in Texas, and blackberries are best grown in the central and northern regions, where nights are coolest. There are more than 400 varieties of blackberries, many of which grow wild throughout Texas. Texas A&M and the University of Arkansas have developed myriad varieties of the fruit that are hardy in Texas and produce good fruit. In general, blackberries require full sun and regular water. Plants may be erect, semi-erect or vines.
Developed by Texas A&M
Texas A&M has developed several varieties of blackberries suitable for growing throughout Texas, including the Brazos, which was introduced in 1959. This plant grows throughout the state and produces an acidic berry that is better for cooking or canning than eating. The Brazos blackberry, which is disease-resistant, is an erect plant with thorns. Among the other Texas A&M varieties are the Rosborough, which produces a sweeter fruit and is recommended for east and south central Texas; the Womack, which produces a smaller fruit than the Rosborough but thrives in sandy soil; and the Brison, which is recommended for south central Texas or areas with black clay soil.
Developed by the University of Arkansas
The University of Arkansas has also developed multiple varieties of blackberries suitable for growing in Texas, including the Arapaho, Choctaw, Navaho and Shawnee. The Arapaho, which was released in 1993, is the newest variety and has many positive characteristics, including its resistant to disease and lack of thorns. This plant produces a plump, firm berry over a month-long harvest period. The Shawnee is a late-season producer with excellent fruit, though the berries are softer than most varieties.
Other Varieties
Released by the USDA in 1981, the Hull blackberry is a semi-erect, thornless plant that produces a dark, medium fruit. If the fruit is harvested early, it will be acidic. The Hull requires colder weather to properly set and is recommended for use in north Texas. Among the other varieties of blackberries that can grow in Texas is the Cherokee, which is an erect, thorny plant that produces firm berries with sweet flavor.