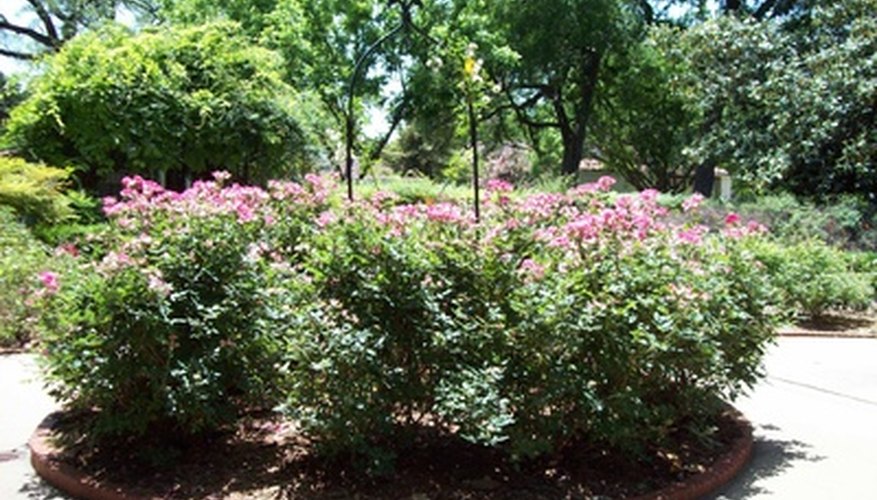 Small shrubs are used when landscaping small spaces. Evergreen plants offer interesting colors, textures, sizes and shapes for all four seasons. Many varieties of small, evergreen shrubs flower as well. This is added value since they provide interesting bark, flower, fruit and fragrance throughout the year.
Shrubs that only reach 1 to 2 feet in height do well in containers or planted along walkways. Bushes that are 4 to 5 feet tall create a textural background for perennial and annual flowerbeds. Small shrubs eliminate the issue of overgrowth in limited space areas.
Chinese Mahonia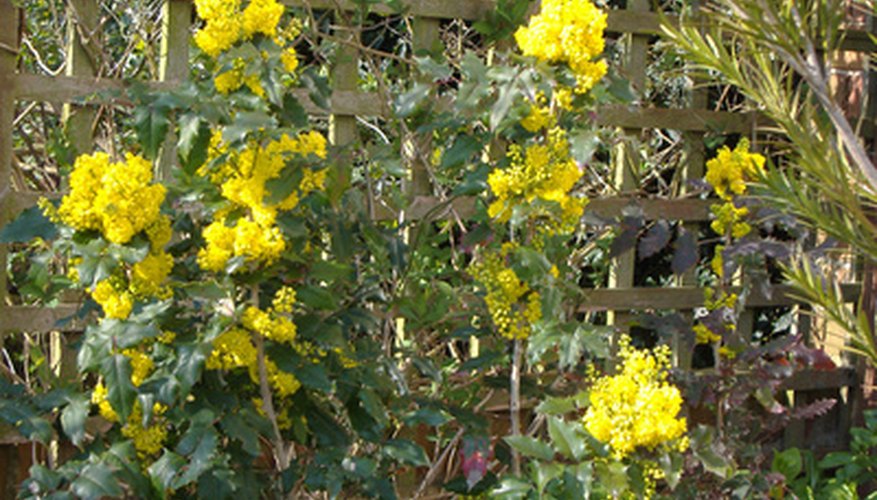 Chinese mahonia (Mahonia fortunei) is an erect shrub reaching 3 to 5 feet in height. The evergreen, 4 to 8 inch leaves appear with burgundy tips when newly grown. Lemon yellow blossoms cluster together on the ends of flower spikes. Chinese mahonia tolerates clay, sand and arid soil. Protect Chinese mahonia from direct sun exposure.
Creeping Gardenia
Creeping gardenia (Gardenia augusta 'Radicans') is a low growing shrub forming a 1 to 2 feet mound. The small, leathery leaves are dark green. The fragrant, waxy white flowers cover the foliage throughout the summer. Creeping gardenia tolerates arid conditions and suffers foliage burning in winter when exposed to strong freezing winds.
Damianita Daisy
Damianita daisy (Chrysactinia mexicana Gray) is an evergreen shrub that grows 12 inches in height and spreads 24 inches wide. The fragrant green leaves are needle-like. This evergreen bush produces small flowers from April through September covering the bush with bright yellow, daisy-like blooms. Damianita daisy is drought tolerant and rabbit resistant.
David Viburnum
David viburnum (Viburnum davidii) is an evergreen bush that reaches up to 60 inches tall, but is usually only 36 inches in height. The elongated leaves are shiny dark green with three deep parallel veins. Small white blossoms cluster together in 3 inch groups at the tips of the branches. David viburnum does not like extreme temperatures in the summer or winter.
Indian Hawthorn
Indian hawthorn (Raphiolepis indica) is a low maintenance evergreen shrub with thick, dark green leaves. This shrub has a natural rounded shape that is covered by white and pink star-shaped flowers. Indian hawthorn grows 2 to 5 feet tall. This drought resistant shrub tolerates a variety of soil conditions. Indian hawthorn can withstand heat, humidity, pollution, wind, rabbits and salt spray.