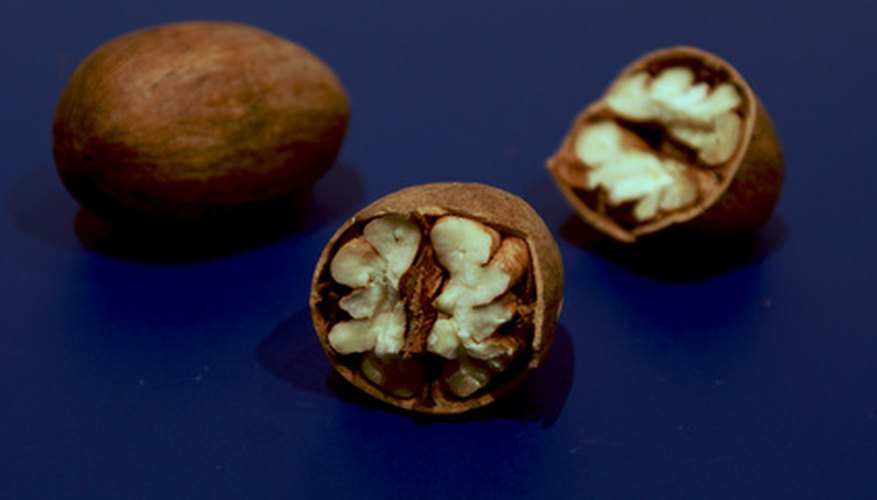 The large, graceful branches of the pecan tree provide visual interest to any Kansas landscape. Add in the crops of delicious nuts harvested from the branches each fall, and this tree becomes much desired, particularly in southern Kansas yards where the threat of an early frost is less likely. The trees may require some careful attention, but the tasty, mouth-watering nuts more than make up for any challenges.
Description
Pecan trees grow up to 70 feet in height, reaching 80 feet in width at maturity. The tree features large green leaves with yellow catkins appearing in the spring. These catkins turn into two to five nuts enrobed in a green husk. When mature, the husk splits open, revealing the mature pecan nuts. As the husks dry, the nuts start to fall from the tree. The tree also makes a colorful addition to fall gardens when its leaves turn beautiful shades of yellow.
Planting
Pecan trees prefer well-drained, sandy or loamy soils in sunny locations. Pecan trees may also be grown from nuts after they've been properly chilled; once the trees are established, they will require grafting for further development.
Best Types
The best type of pecan trees for Kansas are northern pecan cultivars. These cultivars work best because they are cold hardy and can handle the state's harsh winter conditions. A few southern pecan cultivars do work in Kansas, although they are limited to the extreme southeastern and south-central areas of the state.
Harvesting
Once the nuts begin dropping from their dry husks in late September or early October, they are ready for harvesting. As the first nuts start to fall, the tree may be shaken to encourage more nuts to drop off. The nuts should be gathered and stored in a cool place to prevent the high oil content from becoming rancid.
Pruning
In early spring, young pecan trees require tip pruning. This involves clipping 3 to 4 inches of the branch tips to encourage growth of a strong trunk. Once the tree is established, pruning should be limited to clearing the lower 8 feet of the trunk of any branches.
Pests
Pecan nut casebearer may attack pecan trees in Kansas. The pecan nut casebearer is a small moth that lays its larva on the base of buds. When the larvae emerge in the spring, they feed on the nuts, hollowing them out. The trees require careful monitoring to determine when the larva are entering the nuts so spray can be applied.