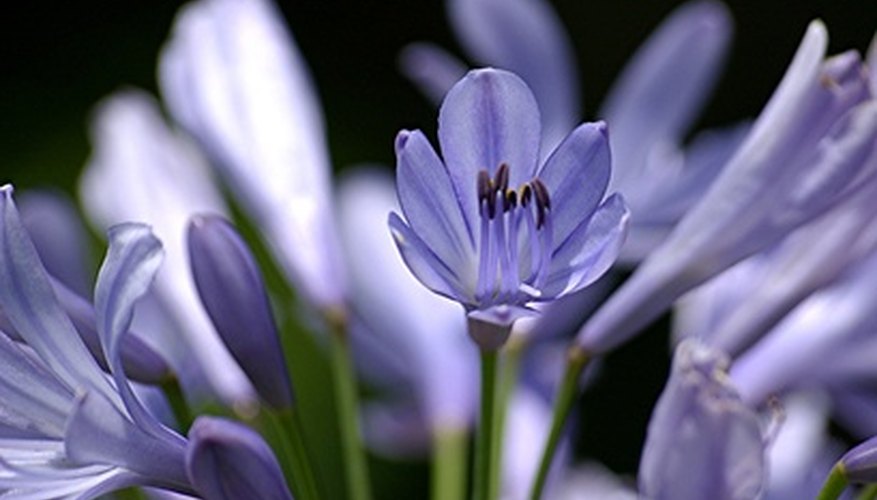 If your flower bed needs a touch of blue to round out the color palette with very little maintenance, consider planting agapanthus. Agapanthus, also known as 'African Lily,' or 'Lily of the Nile,' boasts some of the bluest blues in the flower world. Although agapanthus is a sturdy, low-maintenance, drought-tolerant plant, proper watering is important and will keep the agapanthus healthy and thriving for many years.
Watering Agapanthus in the Flower Bed
Plant agapanthus where the soil drains well. Dig a hole and fill the hole with water. If water remains in the hole after 5 or 6 hours, find a better place, or amend the soil with 3 to 4 inches of organic material such as shredded bark, compost, peat moss or decomposed manure.
Water the agapanthus deeply immediately after planting, soaking the soil. After that time, agapanthus will require watering only during hot, dry weather.
Allow agapanthus to dry out during fall and winter. Resume normal watering in early spring.
Watering Agapanthus in Containers
Plant agapanthus in a large, solid container with a good drainage hole in the bottom. Without proper drainage, the soil can become excessively wet, and the agapanthus plant can rot. Put a piece of wire screen or a broken pottery shard over the hole to keep soil from washing through the hole.
Fill the container with a well-draining commercial potting soil. Most good-quality commercial potting soils with a peat base will work. Squeeze a handful of the potting soil in your hand. If it packs tightly, add additional peat, or a small amount of sand to improve soil drainage.
Water the agapanthus deeply after planting, and allow the water to run through the bottom of the container.
Keep the soil moist. If your container-grown agapanthus is kept outdoors, check the soil daily, and water if necessary. Don't water until the soil is soggy, as agapanthus won't tolerate waterlogged soil.
Bring the agapanthus indoors when the nighttime temperatures drop below 50 degrees Fahrenheit. The agapanthus will enter a rest period, and the soil should be allowed to become dry. Resume normal watering in early spring.
Things You Will Need
Organic material

Large container with drainage hole

Wire screen or a broken pottery shard

Commercial potting mixture

Peat or sand (optional)