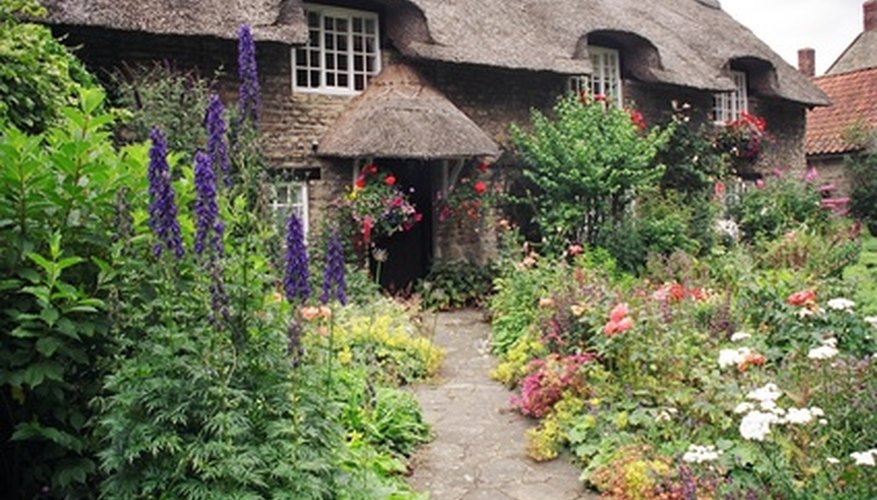 Growing your own vegetables means the veggies are fresh, tasty and nutritious. It also means you save on grocery bills. While a regimented garden cordoned off in squares and rows is pretty to look at, the veggies don't care. Cottage gardens in Europe are a mélange of vegetables, herbs and flowers happily intermingling. Grow vegetables together to save space.
Interplanting
Select the vegetables with the same growing requirements of light, warmth and water. All vegetables do better with all-day sunshine, but some, such as lettuces, will grow in partial shade. Tomatoes and peppers might grow in the shade, but they won't produce well. So it wouldn't make sense to plant lettuce and tomatoes together in the shade.
Plant lettuces and leafy greens like chard, kale and spinach together. These are cool-season veggies that prefer early spring temperatures to germinate and grow. Most young greens may be used raw in salads.
Harvest the lettuces and greens by thinning and then by snipping leaves from the plants and finally removing spent plants. When you remove a spent plant dig the area a bit, add fertilizer and replace the plant with a warm-season crop. Eventually the bed will be taken over by warm-season veggies.
Interplant bush beans with cauliflower and cabbages. Plant the bean seeds in the ground about four weeks before the cauliflower and cabbages are ready to harvest. Be careful removing the cauliflower etc., after harvesting so the new bean plants aren't damaged. Cutting off the old veggies at soil level works well.
Companion Planting
Plant veggies that grow well together and seem to help each other next to each other.
Plant carrots with tomatoes, radishes, lettuces and onions and away from dill. Tomatoes do better planted next to asparagus, celery, parsley and peppers and away from kohlrabi. Plant tomatoes away from corn because the same worm attacks both Don't plant tomatoes and potatoes together because they both get the same kind of blight.
Plant carrots, cucumbers, corn, radishes and turnips near peas.
By Usage or Color
Plant all the ingredients for pizza next to each other. The pizza garden would include tomatoes, peppers, garlic and onions. Throw in a few herbs such as basil, oregano and marjoram. Plant the pizza garden in a circle to resemble a pizza pie and surround with an edging of petite marigolds.
Introduce mile-long beans, bok choy, snow peas, long white radishes, scallions and Chinese cabbages and greens into your garden for an Asian-themed vegetable bed.
Veggies come in more colors than green. Plant the same color vegetables together in their own beds. A red veggie bed would include tomatoes, red chard, beets, radishes and hyacinth beans. A yellow bed would be comprised of yellow squash, yellow peppers, yellow beans and yellow pear tomatoes. A white garden would be white squash, cauliflower, white onions, white eggplant and parsnips.