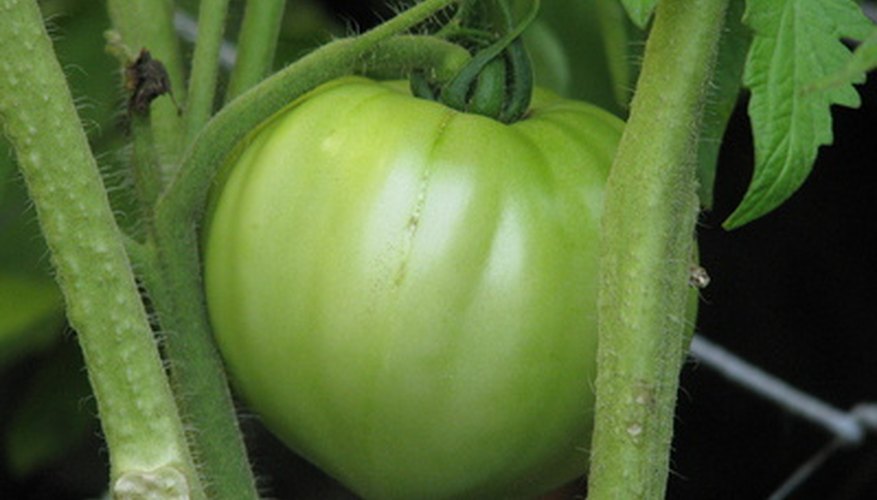 Gardeners who grow rows of tomatoes often search for an effective way to support their plants. One of the simplest ways to support a number of tomato vines planted in a row is the "stake and weave" method. With a combination of wooden or metal stakes and sturdy twine, a gardener weaves the twine back and forth around the stakes and the tomato plants.
Choose metal or wood stakes to support the tomato plants. If you use wood stakes, the diameter should be at least 1 inch. If you use metal stakes, they can be smaller diameters because they are stronger. Select stakes that are between 4 and 6 feet tall (depending upon the tomato variety you are growing).
Pound the stakes into the ground between every other tomato plant. Make sure the stakes are at least 4 inches away from the tomato plants. Pound the stakes approximately 10 inches into the soil.
Attach the twine to the first stake approximately 8 inches above the soil line with a secure knot. Pull the twine down toward the next stake and wrap it around the stake. Continue extending the twine down along the stakes and wrapping it around each one until you reach the end of the row.
Pull the twine back along the row approximately 8 inches above the first line of twine. As you pull the twine back up the row again, extend the twine around the tomato plants as you come to them to encircle the tomato plants with twine.
Wrap the twine around the first stake again and pull it back along the row again in the same fashion (8 inches above the last line of twine).
Continue wrapping lines of twine until you reach the tops of the tomato plants. Secure the twine to a stake and cut off the excess twine.
Add additional lines of twine in the same fashion as the tomato plants grow.