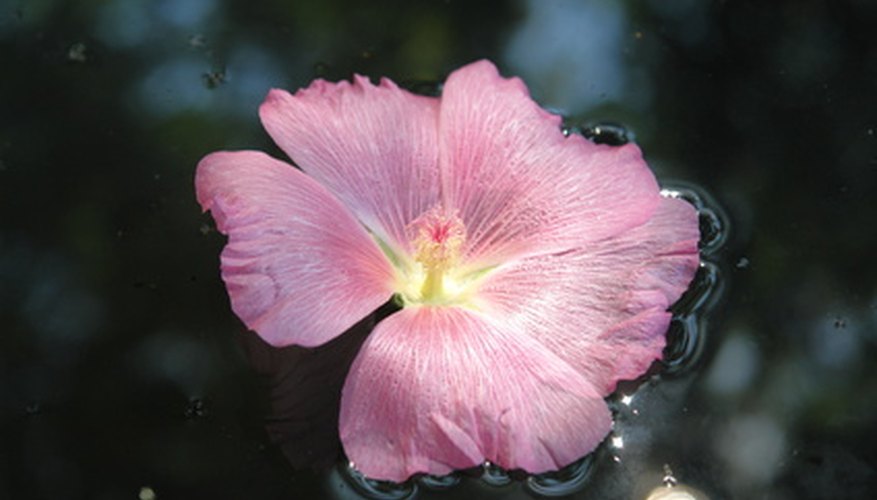 Mallow, or malva, is an annual, biennial or short-lived perennial herb with a long blooming period, making it a reliable source of garden color. Some are listed as musk mallows, because their flowers have a musk scent, according to the Missouri Botanic Garden. Varieties of malva range in color from almost white (Malva moschata 'Alba") to pink (Malva alcea fastigiata), and if conditions meet their needs, they are prolific bloomers and reseeders.
Mallow Family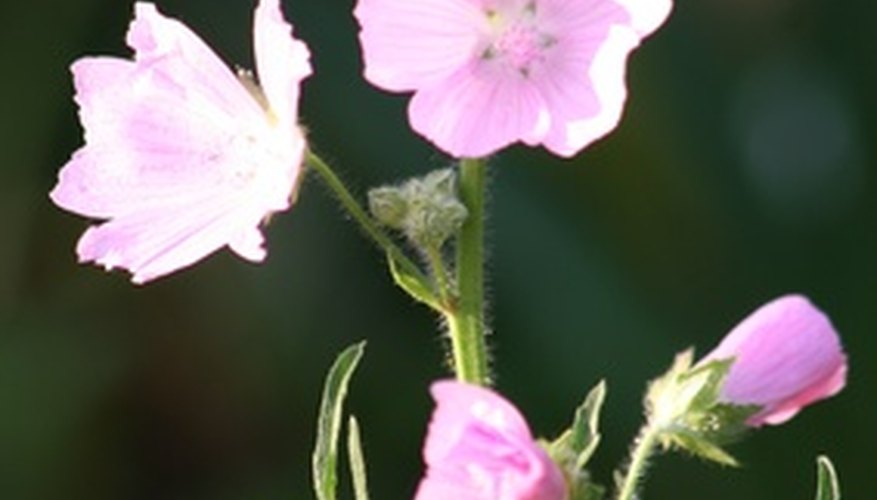 Mallows are part of a large family that includes rose mallow (Hibiscus), flowering maple (Abutilon), hollyhock (Alcea), marsh mallow (Althaea) and poppy mallow (Callirhoe), according to the University of Wisconsin's Robert W. Freckmann Herbarium. The Malva (Mallow) Pages, a British website devoted to malvas, adds hollyhock mallow (Sidalcea) and tree mallow (Lavatera) to this list. The tree mallow is perhaps the closest relative.
Types
Musk mallows (Malva moschata and Malva moschata 'Alba') are short-lived perennials with finely cut leaves and will reseed if they like the conditions. A variety of vervain mallow, Malva alcea fastigiata is a popular, pink-flowered perennial that grows in clumps and can be pruned early to make it more compact. High mallow (Malva sylvestris) is a biennial that has purplish flowers with darker veins. There are also many hybrids of high mallow, some of them blue.
Geography
Mallows are not native to North America, although some varieties have naturalized here. Musk mallows come from Europe and northwestern Africa, excluding the white which is a hybrid. The vervain mallow is from Turkey and Europe. The variety Malva alcea fastigiata is a hybrid with no native range. High mallows (non-hybrids) come from Africa, Asia and Europe. Malva is the Latin name for a Greek word meaning "the leaves and a skin ointment made from the seeds."
Features
The shortest mallow is a violet-flowered hybrid of the high mallow called Malva sylvestris "Dema" that reaches 18 inches. The musk mallows grow from 2 to 3 feet. The hybrid Malva alces fastigiata can grow to 4 feet but early pruning can keep it shorter. There are several mallows listed on The Malva Pages that are "weedy" and perhaps not suitable for the garden. All mallows have petals that are "striated like crepe," according to Val Bourne writing for the British newspaper The Telegraph.
Planting/Cultivation
Mallows like full sun and a good garden soil with compost added. Val Bourne suggests buying plants for the garden and later collecting and scattering seeds or buy seeds and planting them in pots in the spring to transplant later. Seeds germinate reliably. 5) Keep an eye on water, especially during the first year. Missouri Botanic Garden recommends removing dead flowers to prolong bloom, but leaving some on for reseeding purposes. Feed established plants in spring. Few diseases affect mallows, but watch for Japanese beetles, which will feed on the plants.
Garden Use
Mallows work well for perennial borders, cottage gardens and areas where they can naturalize. Bring musk mallow blossoms inside for fragrance. Mallows are long-blooming, making up perhaps for being so short-lived.