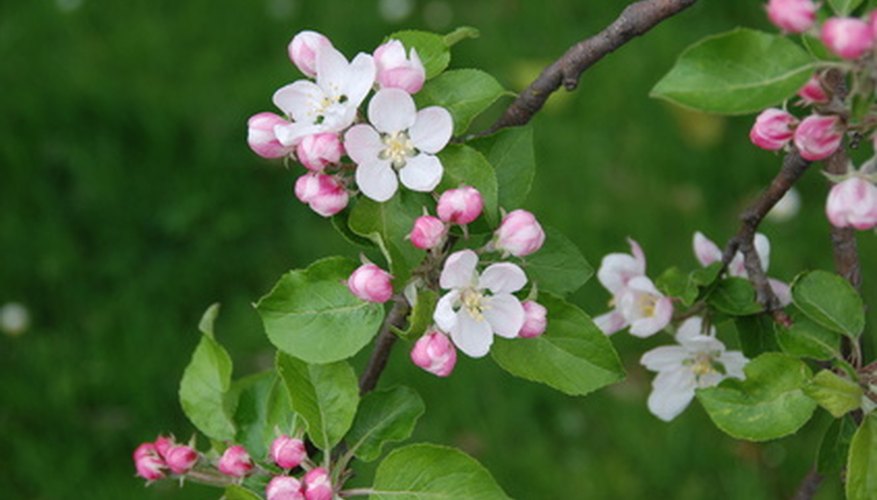 White flowers on trees image by Katya Mikhlin from Fotolia.com
The Midwest has a variety of different climate zones, including some parts that are squarely in U.S. Department of Agriculture Climate Zone 3, whic can support different types of flowering trees. Three general types of trees often found in the Midwest include flowering dogwood, crabapple and flowering cherry. Within these general types, look for cultivars suited to the specific growing conditions in your area.
Dogwood
With some cultivars cold-hardy down to Zone 5, the flowering dogwood is suitable for large parts of the Midwest. Flowering dogwoods grow from about 20 feet to nearly 50 feet tall, depending on the variety and local growing conditions. Flowering dogwoods have subtle white flowers and are also good as shade trees. These trees, however, are not particularly tolerant of drought and will need a lot of watering if the area where they are growing experiences a water shortage.
Crabapple
Crabapples can grow in USDA Hardiness Zones as cold as Zone 4. Different crabapple varieties have flowers that can range from as few as five petals to well over 10 petals. Some crabapple flowers are white, while other trees produce pink flowers. Some crabapple trees grow to only 8 feet tall: however, others can reach up to 40 feet tall. Consider the size of the location where you want your flowering tree when buying a crabapple cultivar.
Cherry
Flowering cherry trees will grow well in many parts of the Midwest. Some Japanese cherries will grow well in USDA Zone 5 or warmer. Many cultivars are available to suit a wide range of growing conditions and planting spaces. Some cherries are upright trees that can grow up to 40 feet tall. Other flowering cherries, like some dwarf Japanese weeping cherries, are around 6 feet tall with wide, drooping branches that provide good white or pink color in the spring and visual interest in the winter.