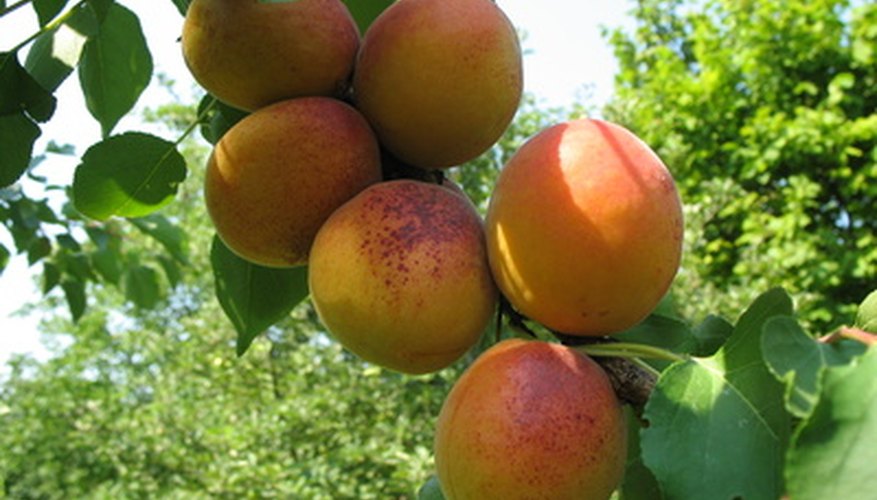 The apricot tree (Prunus Armeniaca) existed in China more than 2,000 years ago. Its westward journey to Europe began around 70 B.C., when the Romans brought apricots to Greece and Italy. Early settlers in the United States likely introduced the apricot to America, where its cultivation today is primarily in California's San Joaquin Valley.
Origin
One school of thought places the origin of the apricot tree in Armenia, based on the discovery there of apricot stones dating back 6,000 years. The 1975 discovery of wild apricot trees at Mount Aragats is part of the proof furnished with this claim. The botanical name, Armeniaca vulgaris, denotes this apricot tree. Another school of thought maintains that the apricot tree is native to China.
Characteristics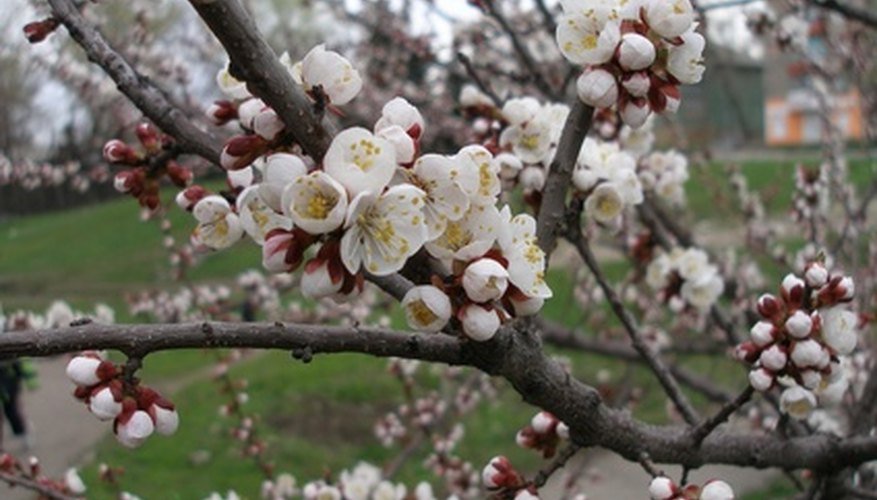 If left to their own devices, apricot trees can soar to heights of around 45 feet. In cultivation, though, the average apricot tree is about 12 feet high with a spreading canopy and leaves about 3 inches wide. The blossoms are delicate, white flowers, similar to those of other stone fruit trees that bear peaches, plums and cherries.
Growing Conditions
The apricot tree generally begins to bear fruit in its second year of cultivation, and goes from strength to strength thereafter, given all the right conditions. They include rich and well-drained soil, and mild, frost-free climates. Temperate climates work best for apricot trees.
Fruit Yield
As a member of the rose family, the apricot tree is a producer of stone fruit. The average apricot tree can produce fruit for 20 to 25 years. The fruit flesh is mostly orange in color, though some cultivars produce white-fleshed fruit.
Apricot trees are generally drought-resistant and hardy, living for decades.
Fresh Off The Trees
In California, the apricot season extends from about May through mid-July. Fresh apricots have a short shelf life of no more than two weeks. In the San Joaquin Valley and neighboring California communities, residents benefit from sales of fresh apricots at farmers' markets. Apricots sold at farmers' markets are usually picked off the trees early the same morning. This eliminates the need for shipping to supermarkets, and also eliminates bruising of this relatively delicate fruit in shipping transit.
Apricot trees are also a popular choice in residential gardens in the area.
The Apricot Fiesta is an annual event in Patterson, California, the self-styled "Apricot Capital of the World."
Worldwide Industries
Countries with apricot trees and apricot production include Argentina, Chile, China, Greece, Italy, Spain, South Africa and the United States. Apricots are sold fresh or as dried fruit or jam.
Another important industry for apricot trees is the cultivation of hybrids, including plumcots, pluots and apriums, which are joint ventures between the apricot and the plum. These hybrids are available for sale at nurseries and online.