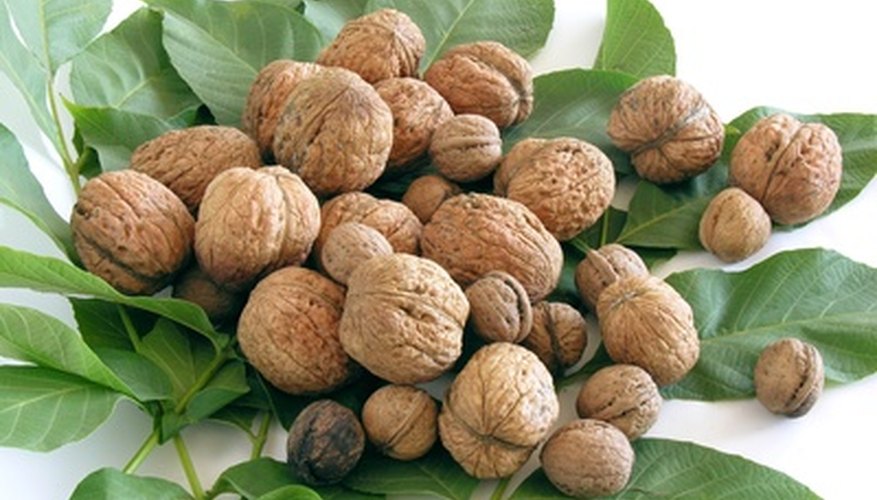 The English walnut, or juglans regia, is a medium to large deciduous tree. This sun-loving Persian native thrives in well-drained, nutrient-rich soils, producing foliage up to 18 inches long with odd-numbered, ovate leaflet. The light, ash colored bark develops into flattened, diamond shaped ridges with stout, light brown branches and twigs. The English walnut, often referred to as the Persian walnut, is intolerant to cold weather and suffers injury from late freezes and spring cold. The tree is also susceptible to several diseases which can be permanently damaging, if left untreated.
Walnut Anthracnose
Walnut anthracnose is a fungal disease that results in leaf blotch. This disease is transported through fungal spores called ascospores, which take shelter on fallen leaves around the English walnut and remain in place during the winter months. As spring approaches, wind and rain sweep these spores onto newly developing foliage. Infected trees will begin to show symptoms within two weeks, developing dark spots and black fruiting fungus on foliage and nuts. The foliage will also yellow, and the nuts will develop lesions. The English walnut will experience early defoliation, stunting growth and weakening the tree, which can eventually kill it if left untreated. Fungicidal sprays containing dodine provide effective control and treatment of walnut anthracnose. Treatments should begin in the early spring, as the young leaves develop.
Walnut Blackline
Walnut blackline is a viral disease that infects the English walnut through its root system. Blackline infects the tissues at the graft union, inhibiting the tree's ability to transport water and nutrients throughout the tree. The crown of the tree will usually display symptoms of infection before the lower branches and foliage. Symptoms include yellowing, wilting and drooping of foliage, defoliation and dieback. When grafted, the infected trunk will display a black line at the area of infection that will extend around the trunk as the virus progresses. Infected trees will suffer loss of vigor and extensive weakening of branches after several years of stress and defoliation. Though mature walnut trees are most susceptible, some young trees can become infected. No treatment or cure exists for blackline.
Deep Bark Canker
Deep bark canker is a bacterial disease that enters the tree through wounds in the wood that expose the phloem. Once the bacterium has entered the tree's system, it interferes with the phloem's ability to transport nutrients, resulting in reduced vigor and stunted growth. The infected tree will develop small dark spots and deep cankerous cracks in the trunk and branches. The cankers will ooze a dark, reddish discharge. Deep bark canker will progress upward through the tree but never spreads to the root system. Though no cure or treatment exists for this disease, it can be controlled. Infected areas should be pruned from the tree when possible. Proper irrigation, feeding and pruning schedules will assist in maintaining the tree's vigor, thereby preventing the disease from ravishing the system.